Philippines stands up to China
Philippine presidents have come and gone since the maritime dispute over the South China Sea began as far back as the 1970s but it was only under President Benigno Aquino III that the dispute was formally brought to an international court to settle the legal issues.
Aquino has mentioned the dispute twice in his previous State of the Nation Addresses: in 2011 and in 2012 following the Scarborough shoal standoff.
"We do not wish to increase tensions with anyone, but we must let the world know that we are ready to protect what is ours," Aquino said in his 2011 SONA.
FULL TEXT: State of the Nation Address 2011: Benigno Aquino III
"We are also studying the possibility of elevating the case on the West Philippine Sea to the International Tribunal for the Law of the Sea (ITLOS), to make certain that all involved nations approach the dispute with calm and forbearance," he said.
A standoff between Philippine and Chinese ships ensued on April 8, 2012, after several Chinese fishing boats were found illegally poaching in Scarborough shoal, which Manila also calls Bajo de Masinloc and as Panatag Shoal.
BACKSTORY: PH, Chinese naval vessels in Scarborough Shoal standoff
Endangered and endemic marine species such as giant clams, sharks, and sea turtles were found with the Chinese fishermen.
Several Chinese Marine Surveillance vessels blocked Philippine authorities from apprehending the fishermen causing a standoff that lasted for several days.
"Chinese fishermen entered our territory. Our patrol boats intercepted some of their ships, which contain endangered species. As your leader, it is my duty to uphold the laws of our country," Aquino said in his 2012 SONA following the standoff.
"We demonstrated utmost forbearance in dealing with this issue. As a sign of our goodwill, we replaced our navy cutter with a civilian boat as soon as we could," he said referring to the withdrawal of the BRP Gregorio del Pilar of the Navy.
FULL TEXT: State of the Nation Address 2012: Benigno Aquino III
China, however, did not leave Scarborough and continues to exercise complete control over the area and its marine resources insisting it has "indisputable sovereignty" and "historic rights" over the entire 3,500,000 square kilometers of the South China Sea.
Filipino fishermen shared numerous horror stories of being turned away by force with water cannons from both Scarborough and the Spratly islands.
After countless diplomatic protests to China, all of which were immediately rejected, the Philippine government officially filed for arbitration before the ITLOS on January 22, 2013.
"[China] has acted forcefully to assert [its "historical rights"], by exploiting the living and non-living resources in the areas beyond the UNCLOS limits while forcibly preventing other coastal States, including the Philippines, from exploiting the resources in the same areas," Foreign Affairs secretary Albert Del Rosario said in his speech before the United Nations (UN) tribunal.
"China has pursued its activities in these disputed maritime areas with overwhelming force. The Philippines can only counter by invoking international law," he said.
FULL TEXT: DFA chief Del Rosario's speech at UN tribunal
Competing claims
To assert its sovereignty over the entire South China Sea, China established the nine-dash line claim which runs close to the coasts of Vietnam, Malaysia, Brunei, Indonesia, and the Philippines.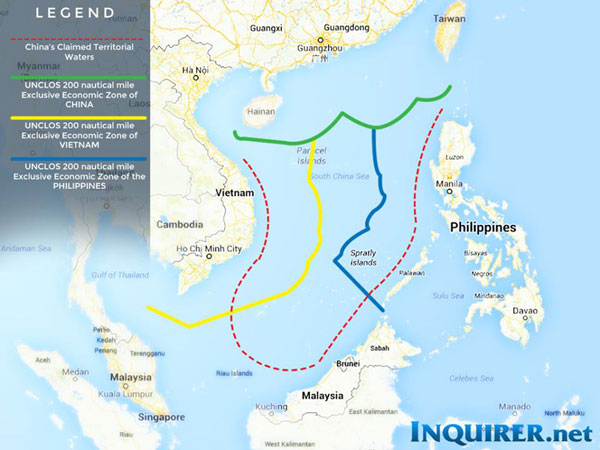 China has even produced several ancient maps which it claims show that the South China Sea has been part of its territory for hundreds of years.
However, "historical rights" are not recognized under the United Nations Convention on the Law of the Sea (UNCLOS) which is regarded as the constitution of the seas.
READ: UNCLOS explained: Why China's claims in South China Sea are invalid
The Philippines arbitration case against China uses UNCLOS as the basis for challenging the nine-dash line claim.
Under UNCLOS, islands owned by a coastal state are entitled to a 200-nautical mile Exclusive Economic Zone (EEZ) and a 12-nautical mile (nm) territorial sea from the baseline of their coast.
Scarborough shoal is approximately 120 nm off the coast of Zambales.
Maritime features in the Spratly Islands are Mischief Reef (130 nm off the coast of Palawan), Kennan Reef (180 nm), Gaven Reef (205 nm), Subi Reef (230nm), Johnson reef (180 nm), Cuarteron reef (240nm), and Fiery Cross reef (255 nm).
The case before the arbitral tribunal has recently begun oral arguments despite China's continued refusal to participate in the proceedings.
BACKSTORY: PH power team to The Hague; UN tribunal to rule first on jurisdiction
As the case slowly moved forward, China carried out massive land reclamation of the reefs turning them into artificial islands capable of hosting military structures, equipment, and personnel.
"I do not think it excessive to ask that our rights be respected, just as we respect their rights as a fellow nation in a world we need to share," Aquino said in his 2012 SONA.
"There are those who say that we should let Bajo de Masinloc go; we should avoid the trouble. But if someone entered your yard and told you he owned it, would you agree? Would it be right to give away that which is rightfully ours? And so I ask for solidarity from our people regarding this issue. Let us speak with one voice," he said.
RELATED STORIES:
Maritime affairs expert separates facts from fiction on Scarborough Shoal
China: PH tarnishing Beijing's international image
PH in The Hague: China violated int'l law
RELATED VIDEOS
Subscribe to INQUIRER PLUS to get access to The Philippine Daily Inquirer & other 70+ titles, share up to 5 gadgets, listen to the news, download as early as 4am & share articles on social media. Call 896 6000.