DFA to probe envoy accused of raping Filipina maid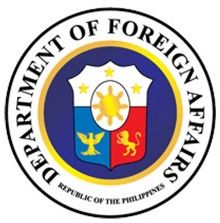 MANILA, Philippines – The Department of Foreign Affairs (DFA) on Thursday said that it would want to conduct an investigation into the rape complaint against Philippine Ambassador to Kuwait Shulan Primavera.
"Once we have received an order from the President, the DFA will undertake or conduct an investigation on the case, specifically on the allegations of harassment levelled against him. Due process will be observed," DFA spokesperson Assistant Secretary Raul Hernandez said in an interview with reporters.
A radio news report had noted that the 63-year old Primavera had been accused of rape by a Filipina maid, who had been serving him for eight months. The woman had said that she would file a formal complaint against Primavera through the Blas Ople Foundation.
Primavera, in a radio interview, however, denied the accusations, and called woman a "liar." He had said that the accusations were part of a demolition job waged against him by another ambassador who had ill-feelings towards him. Primavera was appointed to the Kuwait mission by President Benigno Aquino III in June 2010.
When pressed by reporters if the department had already sent the recommendation, Hernandez said "we will be doing that very soon."
"We would like to undertake an investigation on this case," Hernandez added. Hernandez said that there has been no recommendation to suspend Primavera pending an investigation.
"In the meantime he's there (at the embassy). What we need to do is to get his side about this and go from there. Anyone is presumed innocent until proven guilty," Hernandez said.
Hernandez, citing the Philippine Foreign Service Act, said any chief of mission or ambassador appointed by the President should only be investigated after the Chief Executive approves the action in writing.
"We want to find out the truth and we want him to clear himself if it's not true and we also would like to make sure that the whole thing is verified," Hernandez said
Primavera ordered to come home for consultations
Meanwhile, Foreign Affairs Undersecretary Rafael Seguis said that Foreign Affairs Secretary Albert Del Rosario had sent instructions for Primavera to return to Manila for consultations or inquiries.
"We sent a copy to him requesting that he respond or comment to the allegations (against him)," Seguis said.
"The instruction was for him to come home as soon as possible," Seguis added.
Subscribe to INQUIRER PLUS to get access to The Philippine Daily Inquirer & other 70+ titles, share up to 5 gadgets, listen to the news, download as early as 4am & share articles on social media. Call 896 6000.