Panatag shoal put under jurisdiction of Western Command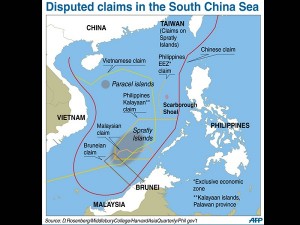 MANILA, Philippines–The Philippine military further bolstered its external defense by moving Scarborough shoal (Panatag) under the jurisdiction of the Western Command (Wescom).
"This is so to enhance our external defense capabilities which is now being concentrated at the Western Command and unity of effort and unity of command so that our external defense efforts will just be under one commander," military spokesperson Lieutenant Colonel Ramon Zagala told reporters at Camp Aguinaldo on Tuesday.
The Scarborough was previously under the Northern Luzon Command based in Tarlac and is led by Lieutenant General Gregorio Catapang. Wescom is based in Palawan and is headed by Air Force's Lieutenant General Roy Deveraturda.
The nearest landmass from the shoal is Palauig in the province of Zambales, or 220 kilometers east. It is a source of rich fishing grounds that is well within the country's 200 nautical-mile exclusive economic zone. China also claims the area. The Philippines brought its dispute with China to arbitration under the United Nations Convention on the Law of the Sea.
Zagala said there was no problem on the transfer of jurisdiction despite the proximity of Scarborough from Wescom as "these are all at sea."
"The [Wescom] has the necessary assets that can address territorial defense and monitoring. They have the necessary aircraft that can fly to all these areas for the purpose of monitoring and reporting to higher government office," Zagala said.
"This is for the purposes of unity of command, unity of effort under one commander and all external defense concerns," he said.
The Wescom's area of responsibility include Palawan and the disputed Spratlys. It also holds jurisdiction of Ayungin shoal (Second Thomas Shoal), a part of the Spratlys that is also claimed by China. Zagala said external defense matters is a "core competency" of the Wescom.
The orders were signed by military chief General Emmanuel Bautista last week, Zagala said.
RELATED STORIES
Water cannon incident doesn't merit military response—AFP
Validate water cannon incident first, says Trillanes
Subscribe to our global nation newsletter
Subscribe to INQUIRER PLUS to get access to The Philippine Daily Inquirer & other 70+ titles, share up to 5 gadgets, listen to the news, download as early as 4am & share articles on social media. Call 896 6000.