China to prioritize Filipino workers in projects – DOTr exec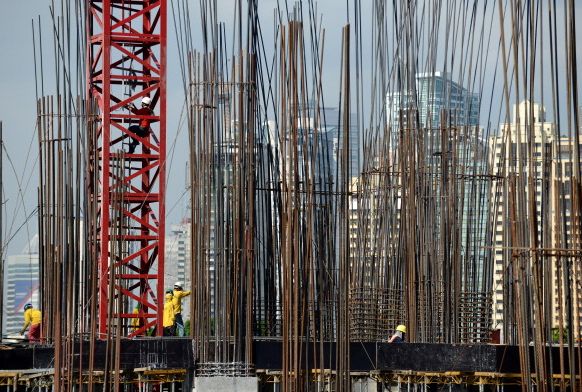 MANILA, Philippines — Beijing has assured Manila that Filipino workers would be prioritized in all China-assisted infrastructure projects in the Philippines and would only "bring" Chinese nationals for "highly-technical" work, an official of the Department of Transportation (DOTr) said Monday.
On top of these, China also gave the assurance that its nationals would "pay taxes accordingly," said DOTr Undersecretary for Railways Timothy John Batan.
Batan said the assurances were among the agreements reached between the Philippines and China during the 4th visit of President Rodrigo Duterte to Beijing from April 25 to 27 for the Second Belt and Road Forum for International Cooperation.
READ: Palace: Duterte's China visit 'highly successful'
"(It was an) undertaking by our Chinese counterparts that the workers, not just for the PNR (Philippine National Railway) Bicol but for all of the China ODA (Official Development Assistance) funded projects, will be Filipinos and this is why they are establishing a training facility upfront," Batan said at an oversight hearing of the House of Representatives.
"(T)hey will only be bringing the Chinese nationals for the highly-technical requirements of the project… and that they will pay taxes accordingly," he added.
PNR Bicol Express reconstruction
Batan also said the Chinese government would fund a training facility in Bicol for Filipinos who would work on the P175-billion PNR Bicol Express reconstruction. The launch of the procurement and awarding of the contract of which would be accomplished by the third quarter of 2019, he added.
The DOTr aims to set the full implementation of the training facility by end of May, the DOTr official said.
China and the Philippines, he added, also agreed to implement a "partial-operability" scheme wherein the Philippines would not wait for the entire 649-kilometer railway system to be completed before operating.
READ: P175-B development aid from China to revive PNR's Bicol Express
Batan said the Bicol Express project, signed in November 2018, aims to cut the 13-hour average land travel to from Manila to Legazpi, Albay, to five or four hours.
READ: China-backed loan for Bicol Express to kick start Xi Jinping's visit
In January, Malacañang defended the influx of Chinese migrant workers to the Philippines, saying there are not enough skilled Filipino workers in the country.
Filipino workers also "lack" construction skills, Presidential spokesperson Salvador Panelo claimed. /cbb