'Simbang Gabi' returns to New York PH consulate after 2-year hiatus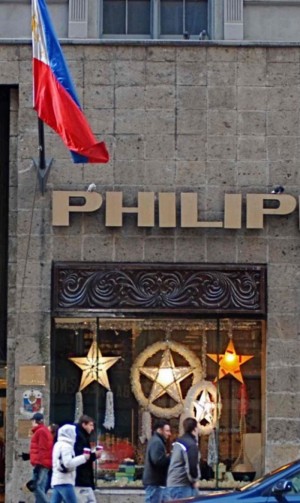 NEW YORK CITY — Dozens of Filipino-American organizations are sponsoring the return of "Simbang Gabi Sa Konsulado," the annual the nine-day, pre-Christmas masses, to be held from December 4 to 12 at the Kalayaan Hall of the Philippine Center on Fifth Avenue in Manhattan, at 6:30 p.m. on weekdays and 3 p.m. on Saturday and Sunday.
The "Simbang Gabi" was halted in 2012 after the Archdiocese of New York denied dispensation to celebrate mass at the Kalayaan Hall, citing Canon Law, which bans the holding of masses outside a sacred place of worship.
But New York Archbishop Timothy Cardinal Dolan, heeding the repeated pleas of the Filipino-American community, which had been celebrating the tradition for 26 years, reversed his unpopular decision early this year and granted dispensation to celebrate mass at the Kalayaan Hall.
For Filipino Catholics, "Simbang Gabi" is an expression of filial devotion to Mary, the mother of Christ, according to organizers. For nine consecutive days, Filipinos join and "accompany" her as she awaits the birth of Jesus.
The following are the sponsors of the masses:
Dec. 4 (Thursday)- Coalition of Philippine Alumni Associations, UNSRC-PCS, San Lorenzo Ruiz Choir, and Banal Na Pag-Aaral
Dec. 5 (Friday)- Friends Indeed, GawadKalinga, Masbate Association, NaFFAA R1, and Mindanao State University
Dec. 6 (Saturday)- AFTA, HandangTumulong Foundation Inc., Ilokano Association, Phil-Com Center, PWU, PACCCSI, Knights of Rizal NY, La Comunidad De Zamboanga and Lady of Penafrancia
Dec. 7 (Sunday)- UNIFFIED, PACCAL, Garden State PAAC, Ay Borongan, Waray Community Organization, Leyte Samar Coalition, Jesus Through Mary, and Duran Consulting Services
Dec. 8 (Monday)- Philippine Nurses Association (PNA) of America, UPAA New Jersey and PNA New York
Dec. 9 (Tuesday)- PAFCOM, Knights of Rizal Union NJ Chapter, Sta. Cruz Laguna Assn. Inc., Fil Aid and Rehab Spa
Dec. 10 (Wednesday)- United Mindoro Int'l. Inc., PACEC, Ivatan East Coast Assn., TOFA, Filipino Social Club of NY, and Valles Vendiola CPA LLC
Dec. 11 (Thursday)- ANCOP/CFA, PAGASA, UPAA NY, Nursing Office Chaplaincy Mission of the Holy Eucharist
Dec. 12 (Friday)- Philippine Consulate General NY, PIDCI, and Young Professionals Group (JCI + CFYFP)
For particulars, contact any of the following: Ave Pimo at  917.536.2789, Vivian Talambiras-Cruz at 973.325.7824 or Olive Osias-Magpile of the Philippine Consulate's cultural section at 212.819.9655.
RELATED STORY
Panunuluyan: Reviving a Filipino Christmas tradition in New York
Subscribe to INQUIRER PLUS to get access to The Philippine Daily Inquirer & other 70+ titles, share up to 5 gadgets, listen to the news, download as early as 4am & share articles on social media. Call 896 6000.