San Francisco church offers Catholic wedding – for free
• Modest after-ceremony reception included
• Operation I Do aims to stem decline in Catholic nuptials in the city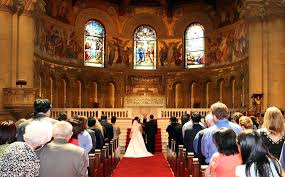 SAN FRANCISCO, California — A 47-percent decline in Catholic marriages in the Archdiocese of San Francisco has prompted the priests and parishioners of St. Thomas More Church to launch "Project Operation I Do," a Catholic Wedding ceremony including a modest reception for their guests, absolutely free of charge.
This year's free wedding is scheduled for August 16. "Operation I do" is open to all Catholics who are living together in a common or civil law marriage, or to all couples who were never married civilly.
Project I Do's free wedding ceremony helps participants overcome hindrances in having a church wedding due to financial reasons and assists them in the daunting task of gathering documents or certificates to meet the requirements. Volunteer wedding counsels are available to assist in preparation and document gathering.
Requirements vary. But normally, only the baptismal certificate and marriage certificate (if already married civilly) are needed. Any Catholic (at least one of the couple, either the groom or bride must be Catholic) can register regardless of what Parish or Archdiocese they belong to or County and State they live in.
Since July 2011, "Operation I do" has wedded 77 couples.
Though it's a mass wedding, couples recite their wedding vows individually. Brides march down the aisle one by one behind their flower girl and ring bearer, while the groom waits at the altar.
The reception right after the wedding is adorned with beautiful flowers, and food is prepared by a well known chef and parish volunteers. Wedding cake is included. The famous St. Thomas More 8 PM choir will sing during the wedding ceremony and reception.
Joe Espinueva, Parish Marriage Counsel, said many people have been continuously asking; "Why are we doing this?"  "Why is it free?"  "Where do we get our funds?" "Our answer is simple — we do this out of love. Isn't that what life is all about? If we do something good for others, funds just miraculously appear," he said.
To get the ball rolling for the "Operation I Do" a dinner-dance fundraiser has been scheduled for Saturday, June 28 at 7 p.m., at the St. Thomas More parish Carroll Hall, 50 Thomas More Way (off Brotherhood Way) San Francisco. Donation is at $25. Children $12. RSVP to Victoria Medina at (415) 377-1398.
"Operation I do" is a church-based project supported by priests, deacons, families and various religious organizations of St. Thomas More Church. Bukas Loob sa Diyos (BLD), Brotherhood of Christian Businessmen and Professionals (BCBP), Couples for Christ (CFC), St. Benedict Young Adult Group (SBYAG) and Legion of Mary are involved in the decoration, preparation, cooking, food serving, traffic, sound system and clean-up.
Those who are interested, email " [email protected]" or call Joe Espinueva at (650)892-7184.
Subscribe to our global nation newsletter
Subscribe to INQUIRER PLUS to get access to The Philippine Daily Inquirer & other 70+ titles, share up to 5 gadgets, listen to the news, download as early as 4am & share articles on social media. Call 896 6000.