Wescom chief: No standoff in Ayungin Shoal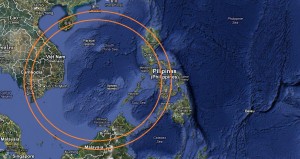 MANILA, Philippines – The Western Command vowed that it will not abandon Ayungin Shoal (Second Thomas Reef) in the West Philippine Sea (South China Sea) even as China maintained its presence there.
"As far as the Wescom is concerned we are continuously monitoring our good friends in that area with what is available with my command and we provide the reports to the national leadership for their appreciation," Wescom chief Lieutenant General Rustico Guerrero told reporters in an interview after a command conference at Camp Aguinaldo on Thursday.
"Rest assured that we will not leave Ayungin," he added.
Guerrero said the presence of Chinese vessels vary from time to time.
In May, the Philippines protested the intrusion of a Chinese warship and maritime surveillance vessels in Ayungin shoal, which is within the Philippine territory.
The Philippine military's detachment in Ayungin is a rusty ship that ran aground in 1999 called BRP Sierra Madre.
Asked about China's offer to remove the ship in the contested waters early this month, Rustico said only the Department of Foreign Affairs can answer such question.
"We're doing our best to protect our territory, our outposts are properly manned and we are continuously monitoring the activities of other nations in that area," he said.
He also clarified that there is no standoff between China and Philippines in Ayungin as of latest, but said that both countries have been "observing" each other.
The Philippine government maintained that Ayungin shoal is part of the Philippine territory, as it is located 105.77 nautical miles from Palawan and is well within the Philippines' 200-nautical-mile exclusive economic zone under the United Nations Convention on the Law of the Sea.
Meanwhile, in reaction to reports that China will deploy a hovercraft in the region, the Wescom chief said they are monitoring the developments in the Chinese armed forces.
Guerrero said that as of the latest, there is one Chinese ship in the area and several fishing vessels.
"There are Filipino fishing boats, there are Vietnamese fishing boats so their numbers differ or vary but it's an open [area] so there's a lot of fishing activities there as of now," he told reporters.
Asked why foreign vessels are allowed to fish in Ayungin, Guerrero only replied: "I cannot answer that."
Subscribe to INQUIRER PLUS to get access to The Philippine Daily Inquirer & other 70+ titles, share up to 5 gadgets, listen to the news, download as early as 4am & share articles on social media. Call 896 6000.