Aquino asks China to explain 'water cannon' incident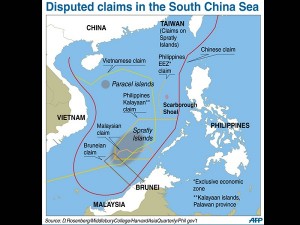 MANILA, Philippines –President Benigno Aquino demanded an explanation from China Tuesday over a report its coast guard had fired water cannon at Filipino fishermen in the disputed Panatag Shoal in the West Philippine Sea (South China Sea).
Aquino said Manila would file a "diplomatic message" to ask China "what this incident was all about, what their intentions are."
The Philippines needs to check first if the water cannon incident is now part of China's standard operating procedures, especially since there were no other reports of fishermen being harassed in the area, he said.
"We don't want to react if this is one of the incidents that, you know, they probably will say was acting under their orders but was actually acting only on orders of the captain of that particular boat," Aquino he said in a televised press briefing in Cebu for the commemoration of Edsa People Power.
Aquino's remark came a day after Armed Forces Chief of Staff Gen. Emmanuel Bautista told reporters that Chinese vessels fired cannon on January 27 near Panatag Shoal—also known as Scarborough Shoal– –the subject of a bitter territorial row in the West Philippine Sea.
Aquino said the DFA and the Department of National Defense are working together to get proof of the incident.
"I think it is proper for us to ask them exactly what this incident was all about, what their intentions are," he said of China.
Scarborough Shoal is a rocky outcrop, considered a traditional fishing ground by Filipinos, which lies just 220 kilometers off the main Philippine island of Luzon. It is about 650 kilometers from Hainan island, the nearest major Chinese land mass.
The West Philippine Sea is one of the world's most important waterways, home to vital shipping lanes and believed to sit atop lucrative mineral deposits.
Both sides engaged in a tense standoff in the area in April 2012, which ended with the Philippines retreating from the shoal.
Aquino said that as of Monday there were Filipino fishermen at the shoal "who were not being harassed or intimidated by any entity".
China on Monday refused to directly respond to the allegations, insisting only that it had "indisputable sovereignty" over the area.
China claims most of the West Philippine Sea on historical grounds, including waters near the coasts of its neighbours.
The Philippines, along with Brunei, Malaysia, Taiwan and Vietnam also have competing claims to parts of the sea, and the rivalries have been a source of tension for decades.
Last year, Manila asked a United Nations arbitration tribunal to rule on the validity of China's claim to most of the sea, but Beijing has rejected the process.
RELATED STORY
Chinese ships fire water cannon at PH fishers
Subscribe to INQUIRER PLUS to get access to The Philippine Daily Inquirer & other 70+ titles, share up to 5 gadgets, listen to the news, download as early as 4am & share articles on social media. Call 896 6000.