China's salami-slicing cabbage strategy to seize PH islands and reefs
While the Philippines was preoccupied with the controversy over the killing of a Taiwanese fisherman by the Philippine Coast Guard on May 9, little attention was paid to the arrival on May 8 of three Chinese naval ships at the Ayungin Reef (Second Thomas Shoal), the gateway to the oil and mineral rich Reed Bank, just 105 nautical miles from Palawan Island, within the 200 mile exclusive economic zone of the Philippines.
Chinese Foreign Ministry spokesman Hong Lei confirmed the arrival in Rena'i Reef (Ayungin Reef) of the Chinese government vessels – two marine surveillance ships and one naval frigate. But Hong asserted that the reef is part of the Nansha Islands (Spratly Islands) over which, Hong claims, China has "indisputable sovereignty." Hong added: "It is beyond reproach for Chinese boats to carry out patrols in these waters" even though it is more than 600 miles from the nearest Chinese port.
The Ayungin Reef is presently guarded by a small contingent of about a dozen Philippine marines stationed at the BRP Sierra Madre, a WW II era vessel that was intentionally sunk on the northwest side of the shoal in 1999 to serve as the Philippine marine base. The marines, who are rotated on a regular basis, are equipped with firearms and battery powered radios as well as a small generator to cook their food, which is regularly replenished by Philippine Navy boats.
CHINA BLOCKADE OF AYUNGIN REEF
The Chinese naval ships are threatening to impose a blockade to prevent the Philippine marines stationed at Ayungin Reef from receiving fresh supplies. But Defense Secretary Voltaire Gazmin declared that he will not be intimidated by China and will not pull out his marines from the area. "We will fight for what is ours up to the last soldier standing," he vowed.
President Benigno S. Aquino III backed his defense chief in his speech at an official ceremony marking the Philippine Navy's 115th anniversary. "We have a clear message to the world," he said:" The Philippines is for Filipinos, and we have the capability to resist bullies entering our backyard."
But Chinese bullies have successfully entered the "backyard" of the Philippines before.
In 1994, while the Philippine Navy was not patrolling the area because of the monsoon season, Chinese ships occupied the Mischief Reef, which is just 130 nautical miles from Palawan Island. When the Philippines protested the occupation, China smiled and explained that it was just building temporary shelters to protect its fishermen from the monsoon rains. In 1999, the Philippine government protested the fact that the structures the Chinese built on the reef resembled a military installation more than a shelter for fishermen. China simply ignored the protest. The Philippines decided not to destroy the military fortifications on the Mischief Reef for fear that it would escalate the conflict into a war.
DUPED AT SCARBOROUGH
In April of 2012, a Philippine Navy frigate, the BRP Gregorio Del Pilar, boarded Chinese fishing boats that had trespassed on the Panatag Shoal (Scarborough Shoal) which is located 125 nautical miles from Zambales and more than 550 miles from the nearest Chinese port. After discovering that the fishermen had illegally harvested corals, giant clams and live sharks that were endangered species, the Philippine Navy men detained the Chinese fishermen. But they were blocked by Chinese maritime surveillance ships which freed the Chinese fishermen and their illegal cargo.
At one point in the standoff, the Philippine Navy had two ships facing off against an armada of 90 Chinese vessels which pro-China Senator Antonio Trillanes claims he succeeded in getting China to reduce by half.
The tense standoff continued until June of 2012 when the US brokered an agreement for Philippine and Chinese ships to leave the Scarborough Shoal. Unfortunately, only the Philippines complied with the agreement. China later claimed that it never signed any written agreement to leave the Scarborough Shoal, or what China calls the "Huangyan Island".
"9 DASH LINE" CLAIM OF OWNERSHIP
Instead of engaging in the usual "smile diplomacy" to consolidate its illegal occupation of the Scarborough Shoal, this time China doubled down on its aggressive posture. In July of 2012, China announced that it had created the Sansha City prefecture, complete with its own PLA military garrison, vested with jurisdiction over the entire South China Sea including all of the Spratly Islands. China's Communist government claims ownership based on a  map of the South China Sea etched out by 11 dotted lines by Chiang Kai-Shek's Kuomintang government in 1947. This was later reduced to 9 by the Chinese Communists after seizing control of China in 1949. This simple hand-drawn map with a few dotted lines on it forms the "historical" basis of the "9 dash line" map delineating China's claim to ownership of 3 million square kilometers of the South China Sea.
In an article which appeared in the Foreign Policy magazine on August 3, 2012, Robert Haddick  describes the bind that China has placed the US in because the global and U.S. economies depend on freedom of navigation through the South China Sea where $5.3 trillion of global trade passes through, $1.2 trillion of which go on to pass through U.S. ports.
http://www.foreignpolicy.com/articles/2012/08/03/salami_slicing_in_the_south_china_sea?page=0,0
Haddick describes China's strategy as "salami slicing". "A salami-slicer puts the burden of disruptive action on his adversary. That adversary will be in the uncomfortable position of drawing seemingly unjustifiable red lines and engaging in indefensible brinkmanship. For China, that would mean simply ignoring America's Pacific fleet and carrying on with its slicing, under the reasonable assumption that it will be unthinkable for the United States to threaten major-power war over a trivial incident in a distant sea," Haddick writes.
LOGIC OF SALAMI SLICING
Haddick explains: "If sliced thinly enough, no one action will be dramatic enough to justify starting a war. How will a policymaker in Washington justify (a war caused by) a Chinese frigate chasing off a Philippines survey ship over Reed Bank, or a Chinese infantry platoon appearing on a pile of rocks near the Spratly Islands? When contemplating a grievously costly war with a major power, such minor events will appear ridiculous as casus belli. Yet when accumulated over time and space, they could add up to a fundamental change in the region."
Whenever I would write about China's "creeping invasion" of the Philippines, pro-China apologists were always quick to charge that I was exaggerating and distorting China's position. That exercise will be unnecessary now because China no longer feels the need to deny its intentions in the region.
Below is the English translation of the recent Beijing TV interview of China's Major General Zhang Zhaozhong of the People's Liberation Army (PLA), which was published in the May 28, 2013 issue of the China Daily Mail.  In this remarkable interview, General Zhaozhong openly and candidly discloses China's strategy to recover all the "Chinese islands and reefs illegally occupied by the Philippines".
http://chinadailymail.com/2013/05/28/china-boasts-of-strategy-to-recover-islands-occupied-by-philippines/
TV host: "Well, we have watched the footage and now let's look at the big screen that shows the Chinese islands and reefs illegally occupied by the Philippines. All of us should remember that counting from the north, there are the Beizi Island, Feixin Island, Zhongye Island, Xiyue Island, Shuanghuangzhou Shoal, Mahuan Island, Nanyue Island and Siling Reef.
What one has stolen has to be returned. No matter how long the Philippines have illegally occupied those Chinese islands and reefs, I believe that it cannot change the fact that those islands and reefs are inherent Chinese territories. However, what shall we do to counter those rude and barbarian acts of the Philippines?"
Gen. Zhang Zhaozhong: "What should we do about those islands and reefs? I think that in the main we have done some things relatively successfully in dealing with the Philippines. Since the 1990s, the Philippines has done quite a few illegal and irrational things in its attempt to turn the Huangyan Island (Panatag Shoal) into its territory by means of presidential order, domestic legislation, and so on.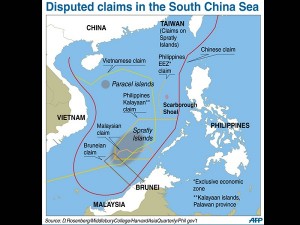 Each time our Ministry of Foreign Affairs protested, but it refused to listen. In the meantime, it was busy doing this and that, such as sunk a boat there and conducting lots of patrols there. By April, 2012, an incident finally took place that it took initiative to detain Chinese fishermen by force; it sent troops to detain at gun point the Chinese fishermen who entered the lagoon to carry out normal fishing.
Since then, we have begun to take measures to seal and control the areas around the Huangyan Island, seal and control continuously up till now. In the over one year period since then, there have been fishermen in the inside. Our fishermen are often there because there is lot of fish there. Fishermen go there in large ships and then sail small boats in the lagoon to fish. They can have shelter in the lagoon when there is a typhoon.
The fishermen conduct normal production there. In the area around the island, fishing administration ships and marine surveillance ships are conducting normal patrols while in the outer ring there are navy warships. The island is thus wrapped layer by layer like a cabbage. As a result, a cabbage strategy has taken shape.
If the Philippines wants to go in, in the outermost area, it has first to ask whether our navy will allow it. Then it has to ask whether our fishery administration ships and marine surveillance ships will allow it. Therefore, our fishermen can carry out their production safely while our country's marine rights and interests as well as sovereignty are safeguarded. Is that not satisfactory?
We can adopt this method elsewhere. We have not resorted to war and we have not forced the others to do anything, have we? You have invaded and then left. You have violated Chinese law and China's sovereignty and territorial integrity, haven't you? Why did you point your guns at our fishermen? As you have first violated the law and pointed your guns at our fishermen, you would never be allowed to enter the area.
We should do more such things in the future. For those small islands, only a few troopers are able to station on each of them, but there is no food or even drinking water there. If we carry out the "cabbage" strategy, you will not be able to send food and drinking water onto the islands. Without the supply for one or two weeks, the troopers stationed there will leave the islands on their own. Once they have left, they will never be able to come back.
For many things, we have to grab the right timing to do them. Over the past few years, we have made a series of achievements at the Nansha Islands (the Spratly Islands), the greatest of which I think have been on the Huangyan Island, Meiji Reef (Mischief Reef) and Ren'ai Shoal (Ayungin Shoal).
We have gained quite satisfactory experience about the ways to recover the islands and reefs and defend them. For the Nansha and Xisha (Paracel) Islands, we have established Sansha City to administrate them. That was a good step we have taken.
The next step will be the strengthening of power and authority in implementing our law in conduct our administration. The further next step shall be the vigorous development there, including the development of economy, tourism, marine fishery and marine protection.
We have to do much more work there, and coordinate various efforts. We should not rely only on military effort. In the military perspective, fighting is the last resort while before it there must be production on a large scale and with high enthusiasm and large-scale production on the sea. That is why I say that we have to create such an environment and atmosphere."
Well, there you have it, straight from the mouth of China's foremost military expert, General Zhaozhong.  Soon, he predicts, China will be bringing in tourists from the Sansha City prefecture to visit Mischief Reef,  Scarborough Shoal, Ayungin Reef, and all the other "Chinese islands and reefs  illegally occupied by the Philippines" some for centuries, all now liberated from those "rude and barbarian" Filipinos.
(Send comments to [email protected] or mail them to the Law Offices of Rodel Rodis at 2429 Ocean Avenue, San Francisco, CA 94127 or call 415.334.7800).
Subscribe to INQUIRER PLUS to get access to The Philippine Daily Inquirer & other 70+ titles, share up to 5 gadgets, listen to the news, download as early as 4am & share articles on social media. Call 896 6000.