Iloilo airport reports increasing visitor arrivals via international flights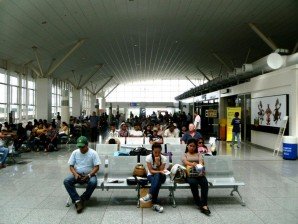 ILOILO CITY, Philippines—International flight arrivals at the Iloilo airport continued to increase at the start of this year, boosting optimism in the tourism industry of the city and province of Iloilo.
Data from the Department of Tourism office in Western Visayas showed that visitor arrivals on direct flights from Singapore and Hong Kong in January reached 2,255, including 1,905 Filipinos, and a total of 1,991 including 1,575 Filipinos in February.
These followed the 1,510 arrivals, including 1,296 Filipinos, in November and 3,219, including 2,837 Filipinos, in December.
December is traditionally a peak travel month while tourist arrivals in Iloilo are high in January because of the city's  Dinagyang festival.
Tourism regional director Helen Catalbas said the visitor arrivals from Singapore and Hong Kong comprised a significant number already although direct flights started only last November.
Budget carrier Cebu Pacific launched the Iloilo-Hong Kong flights on November 8 and the Iloilo-Singapore service on November 9.
The airline is flying direct flights to and from Hong Kong every Thursday and Sunday, and to and from Singapore every Monday, Wednesday and Friday.
Catalbas said that aside from Filipinos, the passengers included residents of 30 other countries, with the highest number coming from the United States, South Korea, Russia, China and Canada.
"This would still increase because the existence of the direct international flights to and from Iloilo and are not yet widely known," she said.
Tourism in the region also got a boost with the visit of two international luxury cruise ships with 1,106 tourists to Boracay in the last two months.
The MS Columbus 2 of Hapag Lloyd Cruises anchored off the island in Aklan on February 24 while the MS Europa made a stopover on March 19.
On October 27, 2012, the cruise ship Legend of the Seas, operated by the Miami-based Royal Caribbean International tour company and carrying around 2,000 foreign tourists visited the island resort.
The DOT is targeting to attract three million tourists to Western Visayas this year, a 15-percent increase from the estimated 2.6 million recorded in 2012.
Subscribe to INQUIRER PLUS to get access to The Philippine Daily Inquirer & other 70+ titles, share up to 5 gadgets, listen to the news, download as early as 4am & share articles on social media. Call 896 6000.