Another Sulu fighter shot dead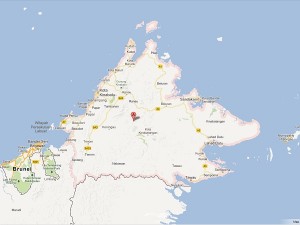 DAVAO CITY—Another Sulu fighter was shot dead by Malaysian security forces on Saturday, bringing to 53 the number of Filipinos killed in the skirmishes to end a monthlong incursion into Sabah by armed followers of Sultan Jamalul Kiram III.
The death of the Filipino fighter raised to 61 the total number of people killed since a standoff between Malaysian security forces and Jamalul's followers erupted into violence on March 1.
Eight Malaysian policemen were killed in gun battles with the Sulu group, which landed in Sabah on Feb. 9 to stake the Sulu sultanate's ancestral claim to the eastern Malaysian state.
Speaking over a Sarawak radio station, Malaysian police chief Ismail Omar said the Filipino died in a shootout at about 8 a.m. as Malaysian security forces continued to advance deeper into Tanjung Batu in Tawau where some of Jamalul's followers were believed holed up.
Ismail said the Filipino was trying to slip through a security cordon in Tanjung Batu when spotted by policemen.
The security forces early Saturday continued firing artillery rounds toward an area in Lahad Datu town where other followers of the Sulu sultan were believed moving about in pairs or small units.
"We believed they were trying to avoid security forces by moving between [Tanduao and Tanjung Batu]," Ismail said.
A reporter for the Sarawak radio station said explosions were heard as helicopters took to the air, making sweeps over the area of operations until noon.
Malaysian military chief Zulkifeli Zin said the Sulu fighters led by Agbimuddin Kiram, brother of Jamalul, managed to slip from Tanduao village to Tanjung Batu due to the uneven and swampy terrain.
Zulkifeli said the security forces were conducting mopping up operations in Tanduao.
Zulkifeli said the air strikes and artillery attacks would continue, as there were no signs that the "Sulu terrorists" wanted to surrender.
"This operation will continue until we are sure all areas have been cleared of threats. It may appear to be slow but we have been making good progress," he said.
Instead of surrendering, Agbimuddin's group was rallying local supporters to stand up to Malaysian security forces, Zulkifeli said.
He said this was the reason why Malaysian police arrested 79 people on Friday.
Those who were arrested remained detained in various jails in Sabah, Zulkifeli said.
The 79—Tausug and Orang Suluk men and women—were arrested in a police roundup in several areas outside the battle zone.
They were suspected of having links to the intrusion into Sabah by Agbimuddin's group.
Ismail said the fate of Agbimuddin remained unknown.
"There are still bodies in the area that we have not identified," he said.
Jamalul declared a unilateral ceasefire and offered an exchange of prisoners on Thursday following a call from United Nations Secretary General Ban Ki-moon on Wednesday for an end to the violence in Sabah.
But Malaysian Prime Minister Najib Razak rejected Jamalul's ceasefire and prisoner swap offer and demanded that Agbimuddin and his men lay down their arms or they would be hunted down and killed.
Malacañang has refused to ask Malaysia to reconsider its rejection of Jamalul's proposal and instead presses an investigation to discover the people behind what it calls "conspiracy" to scuttle peace negotiations between the government and the Moro Islamic Liberation Front (MILF), which are nearing an end with the expected signing of a final peace agreement this year.
What conspiracy?
But Princess Jacel Kiram, Jamalul's daughter, on Saturday said there was no conspiracy in her family's decision to reclaim Sabah from Malaysia.
Jacel criticized the administration of President Aquino for pursuing the conspiracy angle to discredit the sultanate of Sulu.
"The conspiracy theory is an insult to the Filipino people, and to the sultanate of Sulu," Jacel told a news conference.
If there is a conspiracy, it is between Mr. Aquino's administration and the government of Najib, Jacel said.
She said the conspiracy theory was intended to divert the public's attention from Malacañang's "mishandling" of the Sabah crisis.
The princess also accused Malacañang of acting as a "spokesperson against the interest of our own people" to avoid losing the goodwill of Malaysia, the facilitator of the peace talks with the MILF.
"Question: How can P-Noy (the President's nickname) allow the Filipinos in Sabah to be the sacrificial lambs in order to protect the political ambition of (Najib) and at the same time prop up (his) declining credibility in crisis management?" Jacel asked.
Saycon subpoenaed
Abraham Idjirani, a spokesperson for the Sulu sultanate, said the National Bureau of Investigation, had sent a subpoena to Pastor Saycon, a policy adviser to Jamalul, for questioning about the alleged conspiracy.
Idjirani said Saycon would appear at NBI headquarters on Tuesday to answer all questions. With reports from Nikko Dizon, AFP and The Star/Asia News Network
Subscribe to our global nation newsletter
Subscribe to INQUIRER PLUS to get access to The Philippine Daily Inquirer & other 70+ titles, share up to 5 gadgets, listen to the news, download as early as 4am & share articles on social media. Call 896 6000.