DFA sends circular for implementation of new policy on Chinese e-passports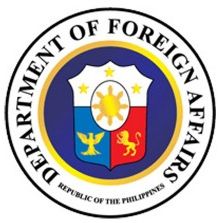 MANILA, Philippines – The Department of Foreign Affairs (DFA) on Monday said that the Bureau of Immigration (BI) and the country's foreign posts have been provided with the circulars about the new visa rules regarding the controversial Chinese e-passports bearing the image of a map that includes areas in the disputed West Philippine Sea (South China Sea).
In a press conference, DFA spokesperson Assistant Secretary Raul Hernandez said that the circulars issued applied to all Chinese passports, old and new, so that there would be "no confusion into the implementation."
"As far as our foreign posts are concerned, they have already received the circular which is effective immediately," Hernandez said. He noted that the BI had also been doing all preparations for the urgent implementation of the new policy.
The Philippines, Vietnam, Taiwan and India protested a map on a new Chinese electronic passport that depicts disputed areas as belonging to China. Aside from the Philippines, Vietnam, Malaysia, Brunei and Taiwan also claim all or part of the territories in these waters, believed to be rich in oil and marine resources.
The Philippines and Vietnam have decided not to stamp visas on the Chinese e-passports. Philippine visas will be stamped on a separate visa form for Chinese applicants.
Hernandez had earlier said that the new policy on the passports was made "to avoid the Philippines being misconstrued as legitimizing the nine-dash line (claim) every time a Philippine visa is stamped on such Chinese e-passport." The Philippines has criticized China's nine-dash claim of sovereignty over nearly the entire sea as "excessive" and inconsistent with international laws.
Hernandez explained that under the new policy, Philippine visas would be stamped on a separate visa form to be provided by the DFA's posts abroad to Chinese nationals.
He added that the entry stamps would be affixed by Philippine Immigration officers on the same document and not on the new Chinese passports.
Subscribe to INQUIRER PLUS to get access to The Philippine Daily Inquirer & other 70+ titles, share up to 5 gadgets, listen to the news, download as early as 4am & share articles on social media. Call 896 6000.