DFA to prioritize repatriation of body of Filipino killed in Riyadh tanker blast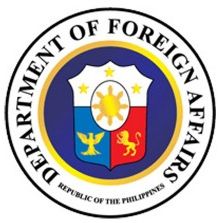 MANILA, Philippines — The Department of Foreign Affairs assured on Tuesday the widow of the lone Filipino fatality in last week's deadly tanker explosion in Riyadh, Saudi Arabia, that it would prioritize the repatriation of his remains.
Jocelyn Santiago and her 16-year-old daughter Shaina went to the DFA on Tuesday to find out how soon the remains of Florentino Santiago would arrive in the country and how to speed up the process.
In a text message, DFA Assistant Secretary and spokesperson Raul Hernandez said that the repatriation process would normally take a month but added they had assured Santiago's widow that the repatriation of his remains would be "prioritized."
"DFA through the embassy in Riyadh will assist the family in processing end-of-service benefits and other possible compensations entitled to the deceased," he also said.
Santiago was among 23 killed when a fuel truck veered into a bridge pylon at a junction on Khurays Road in Riyadh last Thursday, causing a gas leak that spread out and then burst into flames, destroying nearby cars. A total of 135 people, including 10 more Filipinos, were also injured in the accident.
A Filipino truck driver named Ruben Kebeng is now being investigated by Saudi authorities for allegedly being the one responsible for the accident.
On Tuesday, Jocelyn said she had ill feelings against Kebeng since it had been reported he was the one who caused the accident that killed her husband, the breadwinner of the family.
Jocelyn has said she has another child, four-year-old Reinz.
Subscribe to our global nation newsletter
Subscribe to INQUIRER PLUS to get access to The Philippine Daily Inquirer & other 70+ titles, share up to 5 gadgets, listen to the news, download as early as 4am & share articles on social media. Call 896 6000.