Filipinos in Damascus relatively safe—DFA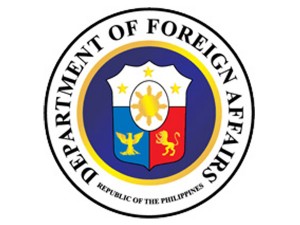 MANILA, Philippines—The Department of Foreign Affairs (DFA) on Friday said that based on latest reports from the Philippine Embassy in Damascus, Filipinos were "relatively safe" in Damascus, Syria even as fighting between government forces and rebels raged.
In an interview with reporters, Raul Hernandez, DFA spokesperson, said that based on information he obtained from Philippine Chargé d' Affaires Alfredo M. Borlonga, Filipinos in the Philippine Embassy in Damascus were relatively safe, though there were clashes and explosions 10 kilometers away from their area.
"Yung ating mga kababayan are also relatively safe because they are in affluent areas because the clashes, sabi niya, are happening in impoverished areas in Damascus," Hernandez said.
Hernandez said that the embassy housed about 160 overseas Filipino workers (OFWs) whose papers were being processed for repatriation. He added that about 1,300 more OFWs had signified to be sent back home.
Asked if the payments for the OFWs would still be part of the assistance offered by the Syrian government, he said that the deployment cost and other penalties for the said OFWs were waived as promised to Foreign Affairs Undersecretary Rafael Seguis.
"But for the rest of our Filipinos in Syria, we still have to negotiate that and see if we can have a blanket waiver for all Filipinos who are repatriated," Hernandez said.
Strife-torn Syria has been under the DFA's crisis alert level 4, or mandatory evacuation of OFWs, since late last year.
The DFA intensified its repatriations due to the worsening violence in the country, and was able to cut a deal with the Syrian government when its authorities agreed to waive the exit visa fees, penalties, and requirements for 140 Filipino workers there. The DFA has said the deal was able to save the Philippine government over $100,000.
Foreign Affairs Undersecretary Rafael E. Seguis left for Syria on July 22 to request the government there to simplify exit requirements for Filipino workers trying to escape the escalating violence in the country and facilitate their repatriation to the Philippines.
Seguis and six members of the government's Rapid Response Team—composed of officers from the DFA, Department of Labor and Employment, and Department of the Interior and Local Government—were deployed to Syria on orders of Foreign Affairs Secretary Albert del Rosario to assist the Philippine Embassy in Damascus in its repatriation efforts.
Subscribe to INQUIRER PLUS to get access to The Philippine Daily Inquirer & other 70+ titles, share up to 5 gadgets, listen to the news, download as early as 4am & share articles on social media. Call 896 6000.