Fil-Am Chamber Music Society presents cello-piano recital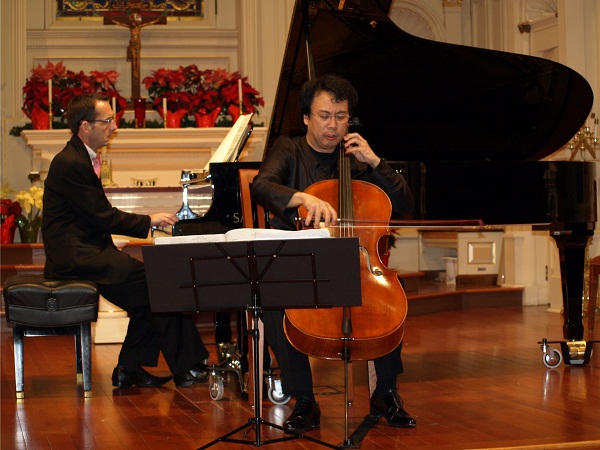 SAN FRANCISCO, California—The Fil-Am Chamber Music Society is presenting its fourth cello-piano concert series at St. Aidan's Episcopal Church this Saturday, May 19 at 7 p.m. Situated up on the hill overlooking the city, the venue's breathtaking vista is an apt prelude to an evening that promises great musical interpretations of several classical masterpieces. The Cello and Piano Recital will include in its program Beethoven's Variations on "See the Conquering Hero", Brahms' Sonata No.2 in F major, and Rachmaninoff's Sonata in G minor, all for cello and piano.
At St. Aidan's one is welcomed with "an enormous open flame emblazoned on the front of the church, painted in the prism colors of fire, magenta, blue, orange, red and yellow reflecting the symbol of St. Aidan, patron saint of firefighters". Here, too, the pastor describes his congregation with characteristics reflecting that of the saint, "warm, vibrant, passionate, unpredictable and joyful." He might have just described the upcoming performance of multi-awarded and internationally acclaimed virtuosos, Wilfredo Pasamba, cellist, and pianist, Corey McVicar.
The Philippine born cellist, Wilfredo C. Pasamba is a product of the prestigious Tchaikovsky's Moscow State Conservatory and Juilliard School. As an active chamber musician, he has performed with Peter Wiley, Ani Kavafian, Benny Kim, Reynalod Reyes, Albert Tiu, Raul Sunico, Brendan Kinsella and with artist members of the Beaux Ats, Argenta Trios, Alexander, Orion and Ying String Quarters.
Pasamba's recent performances include being guest soloist and chamber musician at the Heidelberg Music Festival performing the music of George Crumb, Olivier Messiaen Centennial in Missouri; collaboration in the Arnold Schoenberg Retrospective at the University of Missouri-Kansas City; chamber music appearance with the Omaha Chamber Music Society, and guest solo recitals in San Francisco, Moscow and St. Petersburg. Pasamba will be returning soon to the Philippines for more concerts and to do a recording of his works of both European and Filipino classical pieces.
Corey McVicar, described as a "truly poetic and exhilarating" pianist by the Sydney Morning Herald will accompany Pasamba. He has performed worldwide and has appeared extensively throughout his native Australia, including notable performances at the Sydney Opera House and Sydney Parliament House; he has also given concerto performances with the Sydney and Queensland Symphony Orchestras. In the United States, Mr. McVicar has given recitals at venues such as the Kennedy Center for the Performing Arts in Washington DC; Carnegie Weill Recital Hall in New York City and Strathmore Hall Music Center in North Bethesda, Maryland.
The Cello and Piano Recital is presented by the FilAm Chamber Music Society, a US based organization which aims to use " the power of chamber music to achieve cultural awareness and bring unique possibilities to the education and art communities". The Society will promote and feature Filipino American artists in the field of classical music. This concert is the fourth of a series of concerts in the Bay Area this year.
St. Aidan Episcopal Church is located at 101 Gold Mine Drive on the corner of Diamond Height Boulevard. San Francisco. Tickets are available on the concert date at $20 (at the door), $15(seniors/students).  For information regarding the FilAm Chamber Music Society, and ticket sales, call (415)939-4418 or email [email protected]
Subscribe to INQUIRER PLUS to get access to The Philippine Daily Inquirer & other 70+ titles, share up to 5 gadgets, listen to the news, download as early as 4am & share articles on social media. Call 896 6000.