China sends P8 million worth of food packs to areas devastated by 'Odette'
MANILA, Philippines — China has sent 20,000 food packs worth P8 million to areas ravaged by Typhoon Odette (international name: Rai).
Chinese Ambassador to the Philippines Huang Xilian on Tuesday said that each food pack contains five kilograms of rice, 10 canned goods, and 10 noodle packs.
"Our hearts go out to all the Filipino families who were devastated by Typhoon Odette which has caused massive casualties as well as property loss," he said in a Facebook post.
"With the help of the local Filipino-Chinese Community, these relief goods are on their way to Cebu, Leyte, Negros Occidental, Bohol, Cagayan de Oro City, Surigao City, Negros Oriental, etc.," he added.
Also, he said that 4.725 million kilograms of rice donated by the Chinese government were already in different ports of the country.
"1.5 million kilograms are right in Cebu now, while the 3.225 million kilograms in Manila are being urgently transported to the typhoon-affected areas," Huang said.
The Chinese government expressed gratitude to the Department of Social Welfare and Development for their assistance in the immediate distribution of the rice donation to Filipino families.
Huang assured that China will continue to support the Philippine government's response to Odette's aftermath.
"China will do its utmost to continue its firm support to the disaster relief efforts of the Philippine government and the Filipino people. We wish all those affected could overcome the difficulties and rebuild their homes at an early date," the envoy said.
Based on the latest report from the National Disaster Risk Reduction and Management Council, some 6,184 houses were damaged in nine regions by the super typhoon, said to be the strongest to hit the country this year.
RELATED STORIES
Putin condoles with Philippines after Typhoon Odette's havoc
Victims plead for food; state of calamity pushed
Duterte to raise P10 billion for rehab, recovery efforts in 'Odette'-affected areas
Odette aftermath: Cry for aid rises in Visayas and Mindanao
KGA
Subscribe to our global nation newsletter
Click here for more weather related news.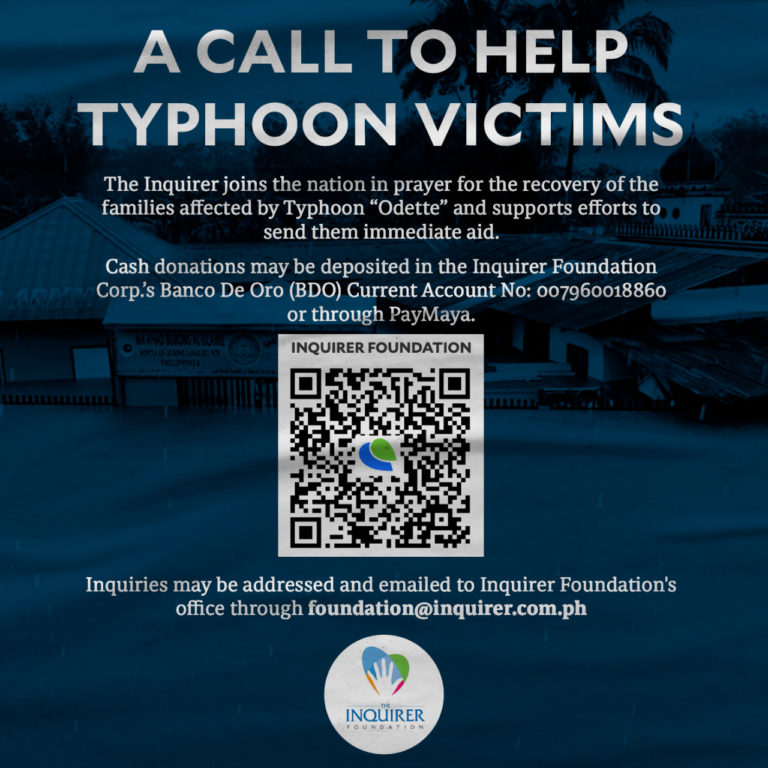 Subscribe to INQUIRER PLUS to get access to The Philippine Daily Inquirer & other 70+ titles, share up to 5 gadgets, listen to the news, download as early as 4am & share articles on social media. Call 896 6000.