International aid coming for storm victims
The United Kingdom has pledged to donate £1 million (P62.6 million) to provide food and clean water for thousands of victims of Typhoon "Rolly'' (international name: Goni) in the Philippines and victims of flooding in Vietnam.
Rolly, a Category 5 typhoon, devastated the eastern parts of the Philippines, leaving at least 20 dead and tens of thousands homeless, and damaging billions of pesos in crops, before exiting the South China Sea toward Vietnam.
Vietnam had been reeling from heavy flooding when it was hit by Typhoon "Quinta'' (international name: Molave), which had earlier wreaked havoc on the Philippines, and later by Goni.
The aid will be split between 80,000 Filipinos and 160,000 Vietnamese, Nigel Adams, Foreign, Commonwealth and Development Office (FCDO) minister for Asia, said in a statement.
The International Federation of Red Cross (IFRC) will distribute it to local Red Cross partners, he said.
"Today's £1 million UK aid package will help to deliver life-saving food, clean water and safe shelter to those who need it most and help both the Philippines and Vietnam recover from such destructive natural disasters," Adams said.
The IFRC has also launched an emergency appeal for both the Philippines and Vietnam to scale up the Red Cross' response to the two countries.
US, Aussie assistance
The United States and Australia have also mobilized humanitarian assistance to help the Philippines recover from Goni.
US Embassy Chargé d'Affaires John Law said his government was working with World Food Programme Philippines and the International Organization for Migration Philippines to deliver relief and emergency shelter supplies to Bicol, the region hardest hit by Goni.
Australian Ambassador to the Philippines Steven Robinson said Australia had provided sleeping, hygiene and emergency shelter kits to 1,000 vulnerable families in Bicol through the Philippine Red Cross.
Catanduanes, CamSur
Meanwhile, help has started to pour into Catanduanes, an island province of 260,000 that for days had been isolated after Rolly crippled its power and communication lines.
Initial reports showed that at least 5,469 families were left homeless in the province in the aftermath of the supertyphoon. The typhoon also damaged 7,520 other houses.
In a social media post, Gov. Joseph "Boboy" Cua said the Regional Disaster Risk Reduction and Management Council (RDRRMC) based in Legazpi City was set to deliver loads of medicines, hygiene kits, and jerry cans from the Department of Health.
The Office of Civil Defense and the Department of Social Welfare and Development (DSWD) were also bringing in 350 polyethylene tarpaulins and more than 1,200 food packs for the nearly 20,000 families on the island displaced by the typhoon.
Across Bicol, some 23,473 families have lost their houses. The DSWD said 3,666 houses were destroyed by the typhoon in the provinces of Albay, Sorsogon and Masbate.
Meanwhile, Don Culvera, incident commander of Camarines Norte province, said the typhoon displaced 32,902 families, or 127,336 people, whose houses were either damaged or destroyed. But as of Wednesday, power has been restored in most parts of Camarines Norte.
In Camarines Sur province, 43 municipalities have no telecommunications signal.
Dominicans' appeal
Meanwhile, the Dominican Province of the Philippines and the Dominican Family for Justice, Peace and Care for Creation appealed for donations for victims of the typhoon, such as mineral water, face masks, mineral water containers, toiletries, canned goods, new clothes, blankets, medicines, laundry detergent, sleeping mats, flashlights and candles.
Cash donations may be deposited in the BPI account of the Dominican Province of the Philippines Inc.: 0211-0409-39. —With reports from Mar Arguelles, Ma. April Mier-Manjares and Jodee Agoncillo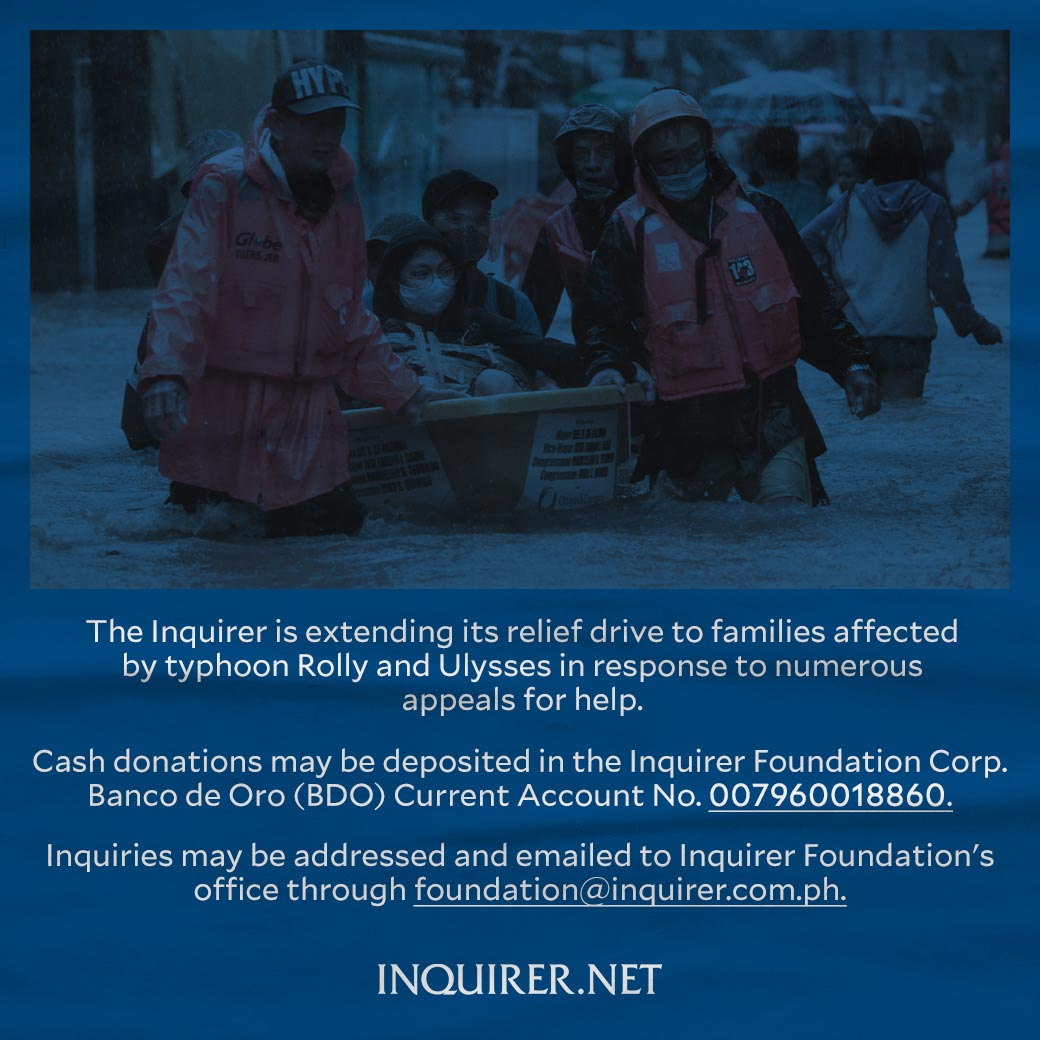 Subscribe to INQUIRER PLUS to get access to The Philippine Daily Inquirer & other 70+ titles, share up to 5 gadgets, listen to the news, download as early as 4am & share articles on social media. Call 896 6000.