Ayala group and partners deploy healthcare assistance to Batangas evacuees
Over 320 evacuees, most of whom were residents in "locked down" towns of Agoncillo and Laurel in Batangas, have been housed at the Municipal Covered Court of Alitagtag. Those coming from the San Andres Elementary School in Bauan were mostly from Lemery where some areas are still partly locked down. The evacuees needed medical assistance for treatment of common cough and colds, muscle pains, hypertension, diarrhea, diabetes and other skin care concerns. A number of patients also required nebulization services and wound treatment. 
In coordination with the Batangas provincial government and the municipal health office, the Ayala group sent a medical mission organized by AFI with various business units and partners – AC Health, Ayala Land's Makati Development Corporation (MDC) and the Ateneo School of Medicine & Public Health. 
The medical mission composed of 41 doctors and 50 allied health professionals was also able to provide patients assorted medicines, supplied by AC Health's Family Doc and Healthway clinics, Generika drugstores, IE Medica and MedEthix.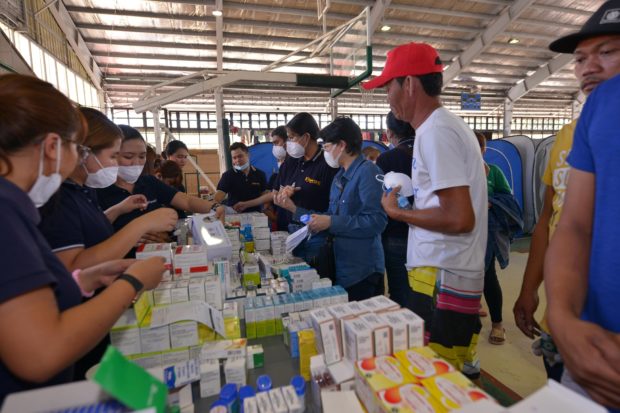 The Filipino Young Leaders Program Alumni (FYLPRO), an AFI affiliated non-profit next generation leadership organization based in the United States, also donated 200 N-95 face masks to protect against possible ashfall. They were distributed by AFI to residents of Lemery who were staying in the town of Bauan. 
Additionally, Manila Water Foundation (MWF) provided the volunteers with five hundred 500 ml bottles of Healthy Family drinking water to ensure proper hydration as they attended to patients throughout the day. 
"Bayanihan is very much alive in the hearts of the Batanguenos. In a letter written by Archbishop Garcera, he said and I quote – Tayo ay Taal. Tatag. Abilidad. Angas. Lingap. Qualities that kept the Batanguenos knitted together. No words can express the gratitude we give to all who are lending a helping hand to lift us back to our feet," shared Dr. Flordeliz Castillo, Alitagtag Municipal Health Officer as she welcomed the medical mission team. 
Aside from the medical outreach, one of the 10 KIA K2500 Karga utility vehicles recently donated by AC Motors to the Batangas provincial government was deployed in Alitagtag, a fourth class municipality. The vehicle allowed the Alitagtag Municipal Disaster Risk Reduction Management Office (MDRRMO) to transport patients, evacuees and relief goods to and from the neighboring towns. Prior the assignment of the vehicle, the MDRRMO said that the only utility vehicle available at their disposal was a garbage truck covered with canvas. 
With Taal volcano's alert level status reduced to level 3 last January 26 by the Philippine Institute of Volcanology and Seismology (PHIVOLCS), many of the displaced families have begun to make their way back to their residences. However, it is clear that there is still a lot more to be done as a significant number of them have lost all their possessions and sources of livelihood. Some of those who were allowed to return to their homes eventually made their way back to evacuation centers as their houses were found to be severely or totally damaged. A provincial evacuation center was set up in the town of Ibaan to accommodate evacuees from areas declared as permanent danger zones. 
The Ayala group will continue to work closely with the concerned local government units in bringing other relief and rehabilitation efforts to communities to help rebuild lives. 
The Ayala group and various partners conducted a medical mission last week to provide primary care for evacuees in Batangas. Of the 38,000 families evacuated at the onset of Taal Volcano's unrest, about 6,000 remain with 1,000 permanently displaced. The Batangas provincial government is working on a temporary relocation site in Ibaan to house these evacuees. Ayala continues to work with concerned LGUs to deliver relief and rehabilitation efforts.Tuluy-tuloy po and pag-alalay sa ating mga Batanguenong kapatid. #AyalaForTaalRead more: https://ayala.com.ph/press-room/press-releases/bringing-primary-healthcare-batangas-evacuees-ayala-group-and-partnersAyala Foundation, Inc. AC Health Ayala Land Makati Development Corporation Ateneo School of Medicine and Public Health FamilyDOC Generika Drugstore IE Medica Inc. MedEthix Inc. Healthway Medical FYLPRO Manila Water Manila Water Foundation Kia Philippines Alitagtag MDRRMO Phivolcs @BPI Globe Telecom AC Industrials AC Infrastructure AC Energy

Posted by Ayala Corporation on Monday, February 3, 2020
Subscribe to our global nation newsletter
Subscribe to INQUIRER PLUS to get access to The Philippine Daily Inquirer & other 70+ titles, share up to 5 gadgets, listen to the news, download as early as 4am & share articles on social media. Call 896 6000.