Who is the new acting DFA secretary?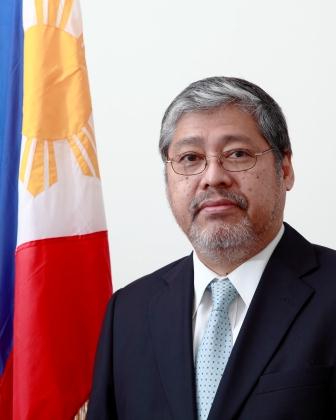 After Perfecto Yasay Jr. was rejected by the Commission on Appointments, President Rodrigo Duterte appointed Undersecretary Enrique Manalo as his temporary replacement.
"Undersecretary Manalo has been at the forefront in addressing several critical issues on foreign policy," the Department of Foreign Affairs (DFA) said in a statement. "His career in the Philippine Foreign Service spans nearly four decades since he joined the Department in 1979."
The new acting secretary came from a family of diplomats. His father, the late Armando Manalo, was a journalist and former ambassador to Belgium. His mother, Rosario Manalo, was the first female career diplomat of the DFA.
Before being appointed acting secretary, Manalo was DFA's Undersecretary for Policy and represented the Philippines in various international conferences.
Below is a list of the other positions held by Manalo:
Philippine Ambassador to the United Kingdom from 2011 to 2016
Non-Resident Philippine Ambassador to Ireland from 2013 to 2016
Philippine Ambassador to Belgium and Luxembourg, and Head of the Philippine Mission to the European Union from 2010 to 2011
Philippine Ambassador and Permanent Representative to the Philippine Mission to the United Nations and Other International Organizations in Geneva, Switzerland from 2003 to 2007
Assistant Secretary for European Affairs
Minister Counsellor of the Philippine Mission to the United Nations in New York from 1998 to 2000
Special Assistant to the First Undersecretary of the Department of Foreign Affairs
Special Assistant to the Office of the Deputy Minister from 1979 to 1981
Manalo graduated from the University of the Philippines with a degree in economics. He finished his MA in Economics from the same university.
He is married to Pamela Louise Hunt and has two sons. KS/JE