LA Historic Filipinotown streetlight art contest finalists named
LOS ANGELES – City officials named three finalists in a public art design contest in line with the installment of 54 new pedestrian streetlights along Temple Street in the heart of Historic Filipinotown.
The #HiFiLights contest is part of an effort to improve pedestrian safety in the historic Filipino neighborhood while showcasing the "unique contribution of Filipino culture to the tapestry of Los Angeles," announced City Councilmember Mitch O'Farrell, the City's Board of Public Works, Bureau of Street Lighting and the Department of Transportation..
An online vote via the website hifilights.lacity.org will help determine the winning design to be featured on 27 of the newly installed pedestrian streetlights. The artists focused their work on the themes kapayapaan meaning harmony, kapwa meaning humanity and lakbay meaning mobility.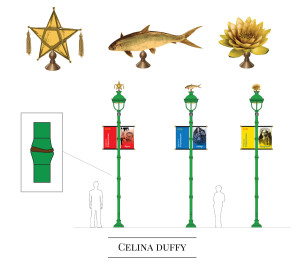 The designs of three artists have been selected as finalists by the Project HiFi Highlight Committee composed of residents and community leaders in Historic Filipinotown: Celina Duffy, Roel Punzalan and Roberto San Luis.
All are LA-based artists of Filipino descent who have taken themes from Filipino artistic traditions as well as their experiences as Angelenos to create designs that represent "LA's creative spirit and diverse cultural heritage" a project press release said. Their proposed work can be viewed at hifilights.lacity.org.
"Art is a reflection of the artist's point of view, his experience and perspective. Public art serves to convey a more public statement," said finalist Roberto San Luis. "'Vinta' is drawn from my personal life (and aims) to create a sense of place in Historic Filipinotown."
Finalist Roel Punzalan stated, "My design proposal aims to incorporate…the inclusive experience and nature of Filipino culture and the ethnic diversity of Historic Filipinotown. The designs anthropomorphize three symbols with the idea that the human figure is the fundamental building block to achieve each of the core values."
For her part, finalist Celina Duffy said, "I feel so blessed to be a descendant of Filipino immigrants who came to America in search of hope and the possibility of a better life…Each symbol in the design has special meaning to Filipinos (kapwa, lakbay, and kapayapaan), yet are universal symbols that represent shared humanity, togetherness, journey, travel, migration, peace and harmony."
In addition to having his or her work displayed on the new pedestrian streetlights, the winning artist will receive $1,000 from the Office of Councilmember Mitch O'Farrell.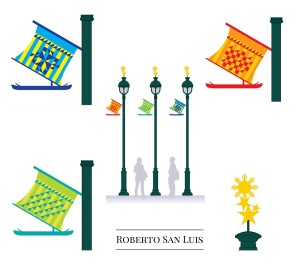 "There were many beautiful interpretations of the theme 'harmony and humanity,'  and I expect Angelenos will have a difficult time deciding between which artist's entry to select," said Councilmember Mitch O'Farrell. "Temple Street is one of the great commercial corridors in the 13th District and any of these designs would give it a greater cultural identity. I am eager to see which design is chosen."
Board of Public Works Commissioner Joel Jacinto said, "One of the defining principles of the Filipino culture is the participatory nature of our lives. It is only fitting to invite the general public and everyone with an interest Historic Filipinotown to have a voice and vote in helping determine the final artistic submission to be featured on the pedestrian safety street lighting along Temple Street."
For more information and to participate in the contest, visit hifilights.lacity.org.

Subscribe to INQUIRER PLUS to get access to The Philippine Daily Inquirer & other 70+ titles, share up to 5 gadgets, listen to the news, download as early as 4am & share articles on social media. Call 896 6000.