A French twist of fate in New Caledonia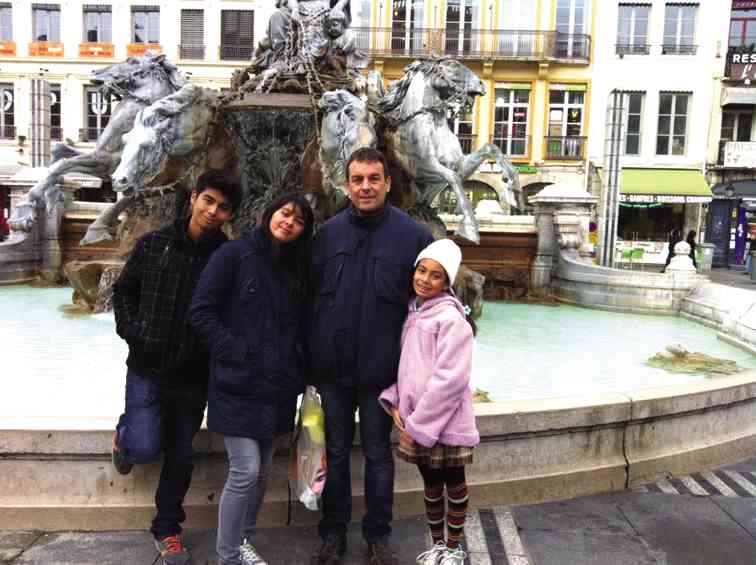 She barely knew him but she was in love and allowed her heart to guide her. Rosines "Ines" Agustin-Herve was a hotel and restaurant management graduate from the University of the Philippines Diliman when she was asked by her sister to help set up a Japanese restaurant in New Caledonia.
New Caledonia is a French territory situated 3,283 kilometers from Australia.
It just so happened that a group from the French Navy was under a short contract in the place and it just so happened that Olivier was going to the restaurant.
Ines admits it was love at first sight and the whirlwind romance was enough for the then 20-something to follow her heart and go with the French gentleman to France.
Destiny
"Everything happened so quickly. In less than a year, I went to France to live with Olivier. I really let my heart decide for my destiny. It was a great risk because it was the first time I was leaving my family to be with a man I barely knew, in a place I have never been before. I only knew three French words.
Maybe it is a bit of luck but most of all it's my destiny to be with this "great man!"
We got married a year later. It was a civil marriage because we had to do it fast for my visa. I admit, it was complicated—the fact that being a foreigner, marrying a French Navy man requires a lot of papers."
The fairy tale romance was boosted by the fact that they lived in the south of France. The house was "quite lovely with a big garden. We had a very tall oak tree just in front where the kids passed hours and hours in the swing. We also had an apricot tree and four olive trees. Because of the four seasons in France, I was always happy with the different varieties of flowers in my garden," says Ines.
As expected Olivier was Ines' "personal professor" in French as she says she only knew three words in French before meeting him.
The two have three kids.
After 15 years in France, they decided to sell the house and settle back to New Caledonia.
More time with kids
"My husband decided to quit the Navy to be able to spend more time with our kids. Now we're living in Noumea, New Caledonia, since 12 years ago and I can say that we do not regret our decision settling here. It's a beautiful and peaceful place to live in."
Career-wise, Ines says, "I had lots of opportunities here. From hotel and restaurant management, I became an accountant by experience. That is why I was able to pass a diploma recognized in French territories. It was quite hard but I had it. As you know, they are quite strict here. They do not recognize foreign diplomas, especially those from the Philippines."
Accountant
She worked for seven years as an accountant. Since July 2014, she was employed as chief administration and payroll officer in Office de Commercialisation et d'Entreposage Frigorifique (Ocef), an enterprise with 125 employees and the only company in the territory that handles meat and potato production.
"As for my husband, he is a technical manager to different dialysis centers in the territory."
Ines is also an active member of the French Red Cross.
"As France is a well-developed country in Europe, childbirth is very medicalized. Epidural (anesthesia given in childbirth) is very common and they usually give it as soon as a woman arrives in the hospital in active labor. I had two births with epidural and one natural.
"In France, maternity is very well covered in terms of insurance health. For my first two kids, I even took advantage of a maternity leave that gives a mother the opportunity to stop working and take care of her child three years maximum. And the good thing is that I continued having my monthly salary. I had the chance to have my mother when my kids were born. She was on holiday. Then it was my mother-in-law who supported me most of the time. She was so kind," she says.
Ines does not go to the Philippines regularly. Her dad passed away without meeting her children. Her mom stays with her sister after Super Typhoon "Yolanda" happened.
"After leaving Manila in 1987, I went back for an emergency in 2006 when I learned that my father was very sick. I returned to Manila one year later for his funeral. What I regret the most is that my kids had never known their grandfather. I took my husband and three kids to visit the Philippines in 2010.
Super Typhoon 'Yolanda'
"The last time I went to my native land was in November 2013 just after Yolanda hit Leyte where my Mom was. My husband and I flew urgently to Leyte to search for her. With God's help, she was safe and so we decided to bring her back to live with us in New Caledonia. She has recovered from the tragedy and is doing fine now. At least, I can take care of her."
"My husband and I wish to travel between New Caledonia, France and the Philippines when we grow old," Ines says.
Their eldest child is studying in France while the two are with them in New Caledonia.
Here, life is so cool and stress-free. It reminds me of the beautiful islands in the Philippines where people are just simple and natural.
Click here for more weather related news.
Subscribe to INQUIRER PLUS to get access to The Philippine Daily Inquirer & other 70+ titles, share up to 5 gadgets, listen to the news, download as early as 4am & share articles on social media. Call 896 6000.