Filipino in ambush of Malaysian cops beaten to death, says Sabah radio report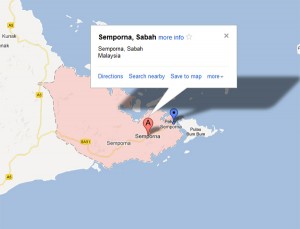 DIGOS CITY, Philippines–A middle-aged Filipino man, who was reportedly involved in the ambush of Malaysian police forces, in which five policemen including an officer was killed, was beaten to death by angry residents of a village in Semporna early Sunday, radio reports from Sabah monitored here said.
The radio stations, broadcasting on shortwave bands, said Semporna police chief Mohammad Firdaus Francis Abdullah had not commented on the incident that took place in Senalang Lama village around 7 a.m.
In a similar report, the Malaysian state media Bernama said its reporter in Semporna had seen the bloodied cadaver of the man, who had an M-16 rifle when beaten to death.
Bernama said the man remained unidentified but was thought to be in his 50s. Its reporter described the man as "big-sized and dressed in black."
The radio reports quoted villagers as saying the man, suspected to be a follower of Sulu Sultan Jamalul Kiram III, descended from a nearby hill on Sunday and fired his gun into the air.
The villagers were reported to have said they overheard the man shouting that he was among those who ambushed the five policemen, who were sent to Semporna early Saturday to conduct ground assessment following reports that armed men were spotted there hours before.
The radio reports said the man even threatened villagers with harm unless they gathered in an open area.
"As the man was trying to light a cigarette, the angry villagers mobbed him," the reports said.
They then hanged his body on a tree, the unidentified Bernama reporter, who happened to pass by the village on his way to a coverage in another village, some 30 kilometers from Senalang Lama, said.
As this developed, Malaysian police's Inspector General Ismail Omar went on air to say he had no information on the reported capture of four Malaysian officials by the "Sulu intruders."
Abraham Idjirani, a spokesperson for Jamalul Kiram III, was earlier quoted in reports by Manila-based media outfits that their followers in Siminul had taken four hostages, a police officer, two military officials and one government official.
Idjirani was also quoted as saying two more men and two children were killed in the same incident that claimed the lives of five policemen in Siminul late Saturday.
But Ismail said as of 6 p.m. Sunday, he had not received any verified report on the alleged hostage-taking incident and other claims by Idjirani.
"No such information (Tiada apa-apa maklumat)," he said in Bahasa.
In Kunak town, nearly 5,000 people had fled in the aftermath of the ambush-cum-clash in Siminul.
In contrast, life has returned to normal in Felda Sahabat 17 in Lahad Datu, the radio reports in Bahasa said, as Malaysian security forces pushed farther away the "Sulu intruders ("penceroboh").
In another report, Bernama said shops had reopened on Saturday and people were flocking into them.
Ismail said the renewed confidence of Lahad Datu residents came after they were assured the situation was under control.
He confirmed the deployment of Malaysian soldiers to beef up the police's capability.
Ismail repeated his appeal to Sabahans not to believe in unverified reports, saying only the police and the military were authorized to issue updates on the efforts to address the "intrusion."
Bernama also quoted Malaysian Army commander Gen. Zulkifli Zainal Abidin as saying he and Ismail had been "mapping out operations."
"We can handle this situation by enforcing tight security," Zulkifli reportedly said when asked about Idjirani's claim that "thousands of the Sultan's followers" from Jolo, Basilan and Tawi-Tawi were heading to Sabah to help their embattled comrades.
Zulkifli had earlier said that members of the Sulu sultan's "royal army" have shown combat experience "and their insurgency guerilla tactics are quite good, I would say."
The Moro National Liberation Front had confirmed that some of its members had joined Agbimuddin Kiram for the Sabah "homecoming."
The MNLF, had signed a peace pact with the Philippine government in 1996, after decades of rebellion, which saw many of its guerrillas become battle-tested men.
Zulkifli said the group had snipers and this fact was observed as early as Friday, during the taking of Felda Sahabat 17 by Malaysian security forces.
Although 12 of the "Sulu invaders" had been killed, two members of the elite Malaysian commando, VAT69, also died in the ambush-cum-clash.
"They made sure we will not be able to go in without casualties," he said.
Subscribe to INQUIRER PLUS to get access to The Philippine Daily Inquirer & other 70+ titles, share up to 5 gadgets, listen to the news, download as early as 4am & share articles on social media. Call 896 6000.