Korean tourist dies in El Nido lagoon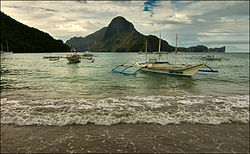 PUERTO PRINCESA CITY–A Korean tourist died from drowning in a lagoon in El Nido Tuesday, local authorities said Wednesday.
The victim, identified as King Hung Gu, 43, was found floating near the famous small lagoon in the island of Miniloc at around noontime.
Arvin Acosta, municipal tourism officer of El Nido, cited police investigation reports indicating that the victim who was with his family may have died from drowning while exploring the lagoon.
"They told us that the victim really did not know how to swim," Acosta told the Philippine Daily Inquirer.
The victim's body was brought to Puerto Princesa City on Wednesday for transfer to Manila.
Subscribe to INQUIRER PLUS to get access to The Philippine Daily Inquirer & other 70+ titles, share up to 5 gadgets, listen to the news, download as early as 4am & share articles on social media. Call 896 6000.