DFA: China's air defense zone hampers freedom of flight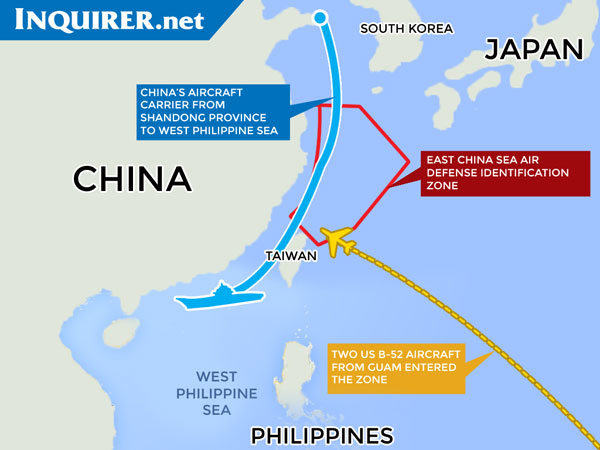 MANILA, Philippines – The Department of Foreign Affairs (DFA) said Thursday that China's establishment of an Air Defense Identification Zone (ADIZ) over East China Sea has negative effects on the freedom of flight and safety of civil aviation.
""China's 'East China Sea ADIZ' transforms the entire airzone into its domestic airspace, infringes on the freedom of flight in international airspace and compromises the safety of civil aviation and national security of affected states," DFA spokesman Raul Hernandez said Thursday.
"The Philippines calls on China to ensure that its ADIZ preserves regional security and stability," he said.
The United States (US) defied the move of China by flying two B-52 bombers into the ADIZ without identifying themselves.
Several islands under a territorial dispute between China and Japan were inside the zone.
US Secretary of State John Kerry said in a statement that China's ADIZ "increases tensions and create risks."
"This unilateral action constitutes an attempt to change the status quo in the East China Sea. Escalatory action will only increase tensions in the region and create risks of an incident," he said.
China Defense Ministry spokesman Yang Yujun made the public announcement of the establishment of the ADIZ last November 23 saying that it was to "guard against potential air threats."
"An air defense identification zone is established by a maritime nation to guard against potential air threats. This airspace, demarcated outside the territorial airspace, allows a country to identify, monitor, control and dispose of entering aircraft. It sets aside time for early warning and helps defend the country's airspace," Yujun was quoted as saying in a report by Xinhua News Agency
"The Chinese government has followed common international practices in the establishment of the zone, with aims of protecting its state sovereignty and territorial and airspace security, and maintaining flying orders. It is a necessary measure in China's exercise of self-defense rights," he said.
Related stories
China aircraft carrier passed north of PH – report
Philippines fears China wants West PH Sea air control
US bombers enter China's claimed air defense zone
Subscribe to INQUIRER PLUS to get access to The Philippine Daily Inquirer & other 70+ titles, share up to 5 gadgets, listen to the news, download as early as 4am & share articles on social media. Call 896 6000.