Immigration drive against illegal aliens starts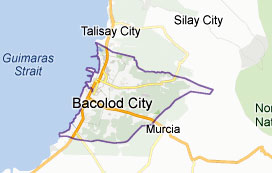 BACOLOD CITY, Philippines—The Bureau of Immigration (BI) has arrested 16 foreigners in Bacolod City and Negros Occidental for various violations of the country's immigration laws.
Arrested were 10 Indians, including four minors, three Chinese and three Koreans, according to lawyer Faizal Hussin, BI special assistant for intelligence and head of the bureau's Alien Mopping Task Force.
Hussin said the arrests in Negros Occidental were the first of a nationwide campaign directed by BI officer in charge Siegfried Mison against undocumented and overstaying foreigners, and those violating immigration laws.
Of the 16, nine were detained at the BI field office in Bacolod City, according to Hussin, who did not release the identities of the arrested foreigners.
Hussin said the three Chinese were apprehended in Kabankalan City on Monday while selling cellular phones in violation of their tourist visas, which did not allow them to engage in business. One of the Chinese was also found to be overstaying, he added.
The three, however, have temporarily been released, as the 36-hour period for their detention had lapsed before BI lawyers from Manila could arrive to file charges against them, Hussin said.
The 10 Indians, including four minors, were apprehended on Tuesday morning at a resort in La Castellana town, Negros Occidental, where they had gone into hiding, he said.
Of the 10, two had expired visas, four had no papers at all and four were minors, Hussin said, adding that the minors had not been detained.
The three Koreans were arrested in the act of illegally working at the Sparta learning school in Bacolod on Wednesday.
Hussin said BI agents had been in Negros Occidental conducting intelligence gathering on foreigners violating immigration laws since the MassKara Festival a week ago.
He said there were about 1,200 registered aliens in Bacolod and Negros Occidental but they had reports on the presence of at least 300,000 foreigners in the city. "We are doubtful of that figure and are validating it," Hussin said.
Word has spread about the BI agents' presence in the province and the illegal aliens appeared to have gone into hiding, he said.
The BI received reports of Indian nationals residing in La Castellana but when they went to the addresses given to the BI, the houses were padlocked.
They also conducted surveillance in markets where Indian money lenders collect payments for loans to vendors in the morning but they did not show up, Hussin said.
On Wednesday, BI agents also inspected learning centers in Bacolod because they were informed that foreigners enrolled there had not paid special student permits fees, he added.
Hussin said the task force was on a seven-day mission in Negros Occidental, after which they would proceed to other parts of the country.
"As far as we know, we are the first task force to be deployed to go after illegal aliens in the country," he said.
Subscribe to INQUIRER PLUS to get access to The Philippine Daily Inquirer & other 70+ titles, share up to 5 gadgets, listen to the news, download as early as 4am & share articles on social media. Call 896 6000.