Scapegoating a Filipino American TV Producer
SAN FRANCISCO – Few Filipino Americans, or Asian Americans for that matter, are as deeply respected or as highly regarded in the field of television journalism as Lloyd LaCuesta, who retired last year after working at Oakland TV station KTVU for 35 years. Lloyd, currently a journalism professor at San Jose State University, was the founder and first president of the Asian American Journalists Association (AAJA) and also the first president of Unity Journalists of Color. In the course of his distinguished career, he won six Emmy Awards from the National Academy of Television Arts and Sciences.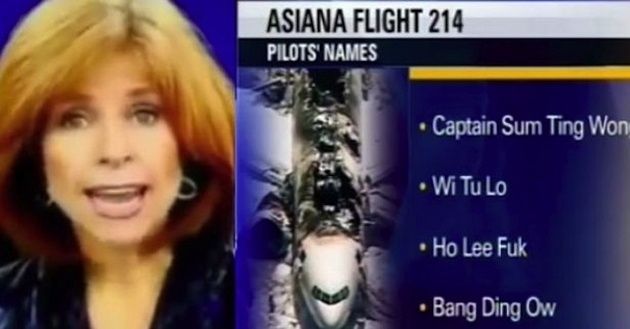 Last week, Lloyd and I were interviewed by Balitang America TV reporter Henni Espinosa about the recent firing of Cristina Gastelu by KTVU  for her alleged involvement in KTVU's embarrassing airing of the fake names of Asiana Airlines pilots in its July 12 noontime news hour by anchor Tori Campbell.
Lloyd told Henni that he has known Cristina for years, even before she was hired by KTVU in 1999, and that he has always had great respect for her as a professional journalist. He said that he was shocked to learn that she and two other staffers were blamed by KTVU for the Asiana fake names fiasco. When Lloyd spoke with her after she was fired, she told him that her first thought was that her father would be greatly disappointed in her as he was always so proud of her achievements, especially for winning an Emmy award as a producer.
 WATCH: Filipino leaders call Fil-Am news producer's firing unfair
"She is very, very upset about what happened. She's taken it to heart," Lloyd told Henni. "I hope it will not follow her. I hope she's able to get another job in this business, because she's a very valuable journalist."
Cristina was also concerned about the deteriorating health of her mother, Tessie, a Registered Nurse from Zamboanga, who is suffering from brain cancer. This health condition was disclosed by noted lawyer and columnist Ted Laguatan who introduced Cristina's parents to each other when they were all living in Chicago. After he set them up for a date, "the rest is history".
On his own, Lloyd investigated the incident that led to the firing of Cristina and two other KTVU staffers and he concluded that no one should have been fired for that unfortunate incident.
In his letter to KTVU General Manager Tom Raponi, Lloyd wrote: "It does point out that we all need to work harder at the craft of journalism and educating ourselves to sensitivities."
Former KTVU political editor Randy Shandobil expressed disappointment in the decision of KTVU to fire the three staffers. He told the San Francisco Chronicle: "People are overtaxed and have more responsibility sometimes than they can handle. And sometimes, in situations like this, terrible mistakes happen that are bigger than one person. It's systemic."
Finding scapegoats is one thing but being racially selective in doing so is another matter altogether. Bay Area media blogger Rich Lieberman cited a reliable source who reported that KTVU did not fire Michelle Toy, a Chinese American, who as KTVU's Managing Editor, had authorized the airing of the offensive names, because "KTVU didn't want to offend the Asian Community. They were worried about a backlash."
How clueless can KTVU be? It was clueless when it fell for the Internet hoax and broadcast the fake names of the Asiana pilots ("Sum Ting Wong", "Wi Tu Low", "Ho Lee Fuk"). As Lloyd explained in his letter to Raponi "Common sense indicates that simply sounding out the names would have raised red flags."
But KTVU is clueless again in firing Cristina but sparing Michelle Toy so as not offend Asians. Does KTVU not realize that Filipinos are also Asians?
The National Federation of Filipino-American Associations (NaFFAA) is scheduled to hold a summit in Las Vegas this week and a resolution will be presented there to condemn KTVU for firing Cristina Gastelu and to demand that KTVU rehire her immediately.
The NaFFAA resolution will also encourage KTVU "to repair its credibility and relationship with the Bay Area Filipino American community by meeting regularly with NaFFAA and working with NaFFAA to develop a pipeline of talented Filipino American journalists who could add to the station's diversity."
Shame on KTVU.
(Send comments to Rodel50@gmail.com or mail them to the Law Offices of Rodel Rodis at 2429 Ocean Avenue, San Francisco, CA 94127 or call 415.334.7800).
Subscribe to INQUIRER PLUS to get access to The Philippine Daily Inquirer & other 70+ titles, share up to 5 gadgets, listen to the news, download as early as 4am & share articles on social media. Call 896 6000.