2 vessels harass Palawan mayor, 200 others at sea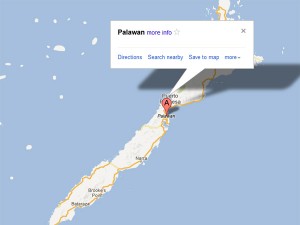 PUERTO PRINCESA CITY, Philippines – The mayor of Kalayaan town in Palawan, along with around 200 people, were harassed by two unidentified vessels while they were traveling by sea before midnight Thursday, the local official said.
Mayor Eugenio Bito-onon of Kalayaan, which governs Pag-asa and four other islets in the Spratlys claimed by the Philippines, said they left Pag-asa Island on Wednesday, after casting their votes Monday.
He said they were on their way to Puerto Princesa, about 280 nautical miles away, on board a municipal boat and passing by the Ayungin Shoal when the two vessels approached them.
Ayungin Shoal is about 100 nautical miles from Pag-asa and near Mischief Reef, which is occupied by China.
The vessels looked like big military naval vessels, said Bito-onon, who just arrived here Friday afternoon.
He said it came as close as 30 meters and followed them for about an hour, with a strong spotlight, then left.
Last week, the Philippines called on China to back off the country's established maritime borders in the disputed West Philippine Sea (South China Sea), saying any foray into its exclusive economic zone (EEZ) would be a violation of international law.
The Department of Foreign Affairs issued the statement amid reports that China has deployed a large fleet of fishing vessels in the Kalayaan group of islands in the disputed Spratlys archipelago.
Subscribe to INQUIRER PLUS to get access to The Philippine Daily Inquirer & other 70+ titles, share up to 5 gadgets, listen to the news, download as early as 4am & share articles on social media. Call 896 6000.