No 'writ of kalikasan' yet—SC spokesman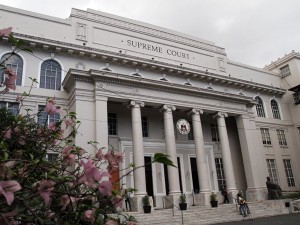 MANILA, Philippines—Supreme Court spokesman Theodore Te said the high court has not issued a "writ of kalikasan" on the matter of the Tubbataha Reef's destruction from the grounding of the US Navy minesweeper, USS Guardian, last January.
Te was reacting to news reports on Tuesday, including the Inquirer's, that the Supreme Court had given due course to a petition for a writ of kalikasan.
With such a writ, the high tribunal will direct the Court of Appeals to hold hearings to determine whether the US Navy is criminally and administratively liable and how much it should be penalized for the massive coral destruction in the protected reef.
"The SC has not issued a writ of kalikasan nor has it issued a Tepo (temporary environmental protection order) in GR 206510 (Arigo v. Swift)," Te said in a tweet Wednesday on the official Twitter account of the SC public information office.
Court sources who were not officially authorized to announce the decision said that before going on recess this week, the magistrates had already voted to give due course to the petition filed last week by a multisectoral group.
The Supreme Court has not yet released the resolution.