Four Filipinos die in Florida car crash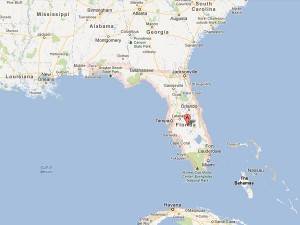 DALY CITY, California–It was another police chase gone awry. The foursome came to watch a basketball game Tuesday night in Fort Lauderdale, Florida, that ended at around 10:30 p.m., but they did not make it back to their Miami Beach hotel. A suspect being chased by the police caused a wrong-way crash that took their lives.
All four victims were of Philippine descent. One is an officer of the U.S. Navy while two were representatives of Ayala-owned Alveo Land Company. The four died instantly on Interstate 95 when a suspect being chased by police made a wrong turn and his sports utility vehicle collided with the Kia minivan coming from the southbound lane.
The Florida Highway Patrol identified the victims as Dennis Ryan Rinon Ortiz, 33, of Daly City, California; Albertson Anthony Almase, 31, and his sister, Kristina, 26, both of Fort Lauderdale; and Lily Marie Azarcon, 26, of the Philippines.
Police said the crash incident began with an " improper right turn" by the Chevy Suburban  on an Opa-locka street corner.
Reports claimed a police officer saw it and turned on his lights and siren. The driver of the Chevy Suburban hit the gas and the chase was on.
"When it was over, the four were dead, innocent victims in a chassis-shredding, wrong way crash that shut down I-95 for hours," reported The Miami Herald.
Willie Dummel, 26, identified by police as the driver of the wrong way vehicle, was taken to the Memorial Regional Hospital for treatment of broken legs, reports said.
Opa-locka officers said Cpl. Sergio Perez, quit pursuing when the SUV entered the interstate going the wrong way, according to news reports. The city claimed that a gun was flung out of the SUV, and that the gun had been recovered near the crash scene.
Joint police operatives in Miami are conducting a thorough investigation to shed light on the incident.
Ortiz, a graduate of the Ateneo School of Business, was the International Sales Director (U.S. Territory) of Alveo Land, an Ayala Land Company, while Azarcon was one of his member property representatives from a group of five who were sent a few months ago by Ayala Land to sell condominium properties to the Filipino American market.
Reports said that Almase was a petty officer 2nd class in the U.S. Navy. He had served in San Diego and was about to begin his next assignment in Virginia. Kristina, on the other hand, reportedly just got married in December and moved to Fort Lauderdale, from Cebu City, Philippines in March.
Meanwhile, a close associate of the victims who refused to be named told Inquirer.net that the Almase's were a friend of Azarcon, who were showing them around Miami during their visit.
According to the Alveo representative, the rest of them refused to join Ortiz and Azarcon to watch the basketball in Fort Lauderdale, "They were trying to convince us to go (with them) but we preferred to stay in the hotel (located in James Avenue, Miami Beach), " adding that the last time they spoke with Ortiz was at 1:05 a.m. Wednesday.
Ortiz's sister, Rochel, apparently flew from the Bahamas to Miami today to arrange for the transfer of the victim's remains to San Francisco.
" I have met his (Ortiz's) sister today and we are ready to pull out his body (from the funeral) tomorrow for the transfer to San Francisco, " the source, who remained in Florida, said. Azarcon's father, however, was still undecided on what to do with the situation.
Friends and relatives of Ortiz could see him for the last viewing in San Francisco according to the source, from between three to five days before his remains will be flown to the Philippines next week. Ortiz has a son and a fiancee in Manila.
Ortiz made a distinction in the Bay area when he launched the Alveo Land in California last year and have been going around places, from San Francisco to Los Angeles, and now in Florida, to tap fertile markets for Ayala Land's condo properties.
Subscribe to INQUIRER PLUS to get access to The Philippine Daily Inquirer & other 70+ titles, share up to 5 gadgets, listen to the news, download as early as 4am & share articles on social media. Call 896 6000.