9 of 594 pass foreign service exams – DFA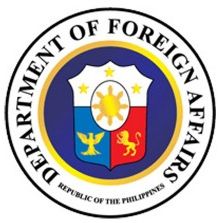 MANILA, Philippines – The Department of Foreign Affairs (DFA) on Wednesday announced that nine out of 594 applicants passed the Foreign Service Officers (FSO) Examinations this year and would be appointed to the position of Foreign Service Officer, Class IV.
The DFA said the nine individuals who passed the exams are:
1.    CARANZO, Iris Vanessa B.
2.    CAYMO, Andrea Christina Q.
3.    DE GUZMAN LV I.
4.    HORNILLA, Miguel Carlo N.
5.    LICAROS, Anna Theresa L.
6. PERPETUA, Mary Grace L.
7. SABERON, Anna Patricia L.
8. VIEJO, Lyza Maria S
9. WAHAB, Johaira C.
The DFA said that the 2012 FSO exams were composed of five tests held throughout the year: Qualifying test – February 19; Preliminary Interview – April 14; Written test – April 18 -20; Psychological Test – July 23-25; and Oral Test Nov 21-22.
The nine who passed would take their oaths of office after President Benigno Aquino III signs their letters of appointment, it said.
The DFA noted that the nine individuals would undergo a six-month Foreign Service Officer Cadetship Course in the Foreign Service Institute, the DFA's research and training arm.
"After cadetship, the newly trained officers will be assigned to the different offices in the DFA Home Office where they will serve for two years before they are deployed to the Philippine embassies, consulates, and missions abroad," it said.
It said that next year's FSO exams will start in March 2013. Interested applicants may log on to www.dfa.gov.ph to download application forms, view the list of requirements, coverage of examination and other information.
The DFA also noted that Johaira Wahab, a lawyer who works at the Office of the Presidential Adviser on the Peace Process (OPAPP), topped the exams.
It noted that Wahab finished her law degree at UP Diliman, where she is also currently taking up a doctoral degree.
The nine passers came from diverse backgrounds, ranging from the performing arts to law, it said.
"Some of them are pursuing graduate studies in International Relations and related fields," it added.
Subscribe to INQUIRER PLUS to get access to The Philippine Daily Inquirer & other 70+ titles, share up to 5 gadgets, listen to the news, download as early as 4am & share articles on social media. Call 896 6000.