PH refuses to stamp Chinese e-passports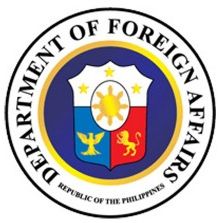 MANILA, Philippines – The Philippines will no longer stamp its visas on China's new electronic passports, the Department of Foreign Affairs (DFA) announced Wednesday.
"This action is being undertaken to avoid the Philippines being misconstrued as legitimizing the nine-dash line (claim) every time a Philippine visa is stamped on such Chinese e-passport," it said in a statement.
"Instead, the Philippines will stamp it on a separate visa application form," it added.
The Philippines had earlier lodged its protest against China's recent move to issue new e-passports stamped with a map that declared disputed West Philippine Sea (South China Sea) territories as part of its borders. China, through its nine-dash claim, has consistently argued that it had sovereignty over nearly the entire sea.
In its statement, the DFA said that the country's refusal to stamp its visas on the new Chinese e-passports reinforces its stand that China's claim over the disputed areas was "excessive," and was "inconsistent with international law, specifically the United Nations Convention on the Law of the Sea (Unclos).
Vietnam had earlier expressed its refusal to stamp the new Chinese e-passports, with its authorities noting that border guards had been instructed to issue "stapled visas" to Chinese people with such passports.
Aside from Vietnam and the Philippines, Southeast Asian nations Brunei and Malaysia have disputed China's territorial claims.
India has also complained over the map's depiction of its northern border with China and retaliated by issuing Chinese citizens visas embossed with New Delhi's own maps.
The United States, meanwhile, had also said it will raise concerns with Beijing over China's latest move, saying that the map printed in the new Chinese passports was causing "tension and anxiety" among claimant states in the disputed West Philippine Sea (South China Sea).
State Department spokeswoman Victoria Nuland was quoted by the Associated Press (AP) as saying that it was up to countries to decide what their passports look like and the US would still accept the Chinese one as a legal document.
But she added: "That's a different matter than whether it's politically smart or helpful to be taking steps that antagonize countries."
She said it was unhelpful for creating an environment for resolving the territorial disputes.  With reports from AP
Subscribe to INQUIRER PLUS to get access to The Philippine Daily Inquirer & other 70+ titles, share up to 5 gadgets, listen to the news, download as early as 4am & share articles on social media. Call 896 6000.