Aquino explains China tiff to kids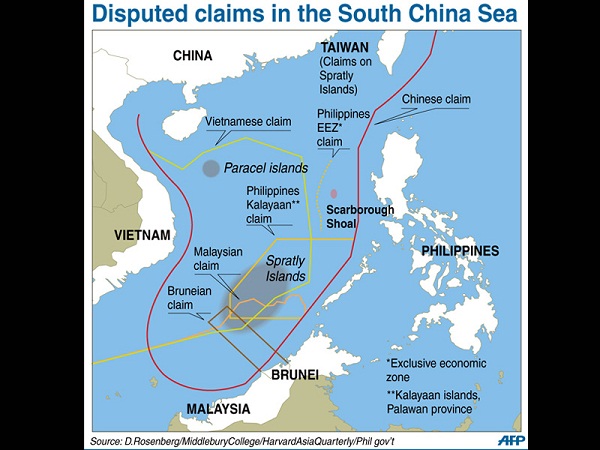 MANILA, Philippines—President Benigno Aquino III on Tuesday said a war with China "over uninhabitable rock formations" was not imminent even as he reiterated the government position that the West Philippine Sea (South China Sea) was part of the country's territorial waters.
Mr. Aquino was asked by a fifth grader at a forum at The Learning Tree Child Growth Center in Sikatuna Village, Quezon City, if the Navy had the modern equipment to defend the disputed Panatag (Scarborough) Shoal.
The President explained that the country's Navy had 132 ships to guard 36,000 km of very extensive coastline. He said  the Navy had aging ships and two relatively newer ships—the BRP Gregorio del Pilar and the BRP Ramon Alcaraz, the latter which had yet to be delivered by the United States.
He explained that under the United Nations Convention on the Law of the Sea (Unclos), the Philippines had a 200-mile exclusive economic zone (EEZ).
"We're supposed to protect that zone not only in terms of the exploitation of the wealth that's there but, more importantly perhaps, the ecology of the area (which) is also our responsibility," he said.
"So what we're trying to do is protect our rights but that doesn't necessarily mean we have to go war with China," Mr. Aquino said.
He explained that what the Philippines can do to protect its rights is go to court.
"We can go to a body under the United Nations called the International Tribunal on the Law of the Seas, where we can make our case. We think we have a very good case. And once that tribunal recognizes it (or other fora that we can go to that recognize it), then China will have to recognize our rights," he said.
Mr. Aquino said part of his job was to protect the national sovereignty and integrity.
If China would "try to take something that's ours and we don't voice our opposition to it, then that's practically giving away that which is ours," he said.
Subscribe to our global nation newsletter
Subscribe to INQUIRER PLUS to get access to The Philippine Daily Inquirer & other 70+ titles, share up to 5 gadgets, listen to the news, download as early as 4am & share articles on social media. Call 896 6000.