PH protests China's e-Passport with image of disputed sea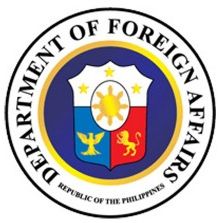 MANILA, Philippines – The Department of Foreign Affairs (DFA) on Thursday announced that it had handed a note verbale to the Chinese embassy in Manila signifying the country's protest against China's decision to imprint the image of its nine-dash sea claims to the West Philippine Sea (South China Sea) in the pages of its new e-Passports.
Reading the notes from the note verbale, Foreign Affairs Secretary Albert Del Rosario said that China's latest move was a violation of the provision on the Declaration on the Conduct of Parties in the South China Sea (DOC) stating that all parties should refrain from actions that complicate and escalate the dispute.
"The Philippines strongly protests the inclusion of the nine-dash lines in the e-Passport as such image covers an area that is clearly part of the Philippines' territory and maritime domain. The Philippines does not accept the validity of the nine-dash lines that amount to an excessive declaration of maritime space in violation of international law," Del Rosario said.
"The Philippines demands that China respect the territory and maritime domain of the Philippines," Del Rosario added.
International news organization Financial Times reported China's latest move after the territorial disputes in the South and East China Seas were discussed in a series of summits of Asia-Pacific leaders in Cambodia last week.  The 10-member Association of Southeast Asian nations concluded its annual summit on Monday without reaching any consensus on the maritime disputes.
China had insisted that it has sovereignty over nearly the entire sea, to which the Philippines, Brunei, Malaysia, Vietnam, and Taiwan have overlapping competing claims.
The Philippines and China had been disputing over certain isles and reefs in the vicinity of the Spratly chain, as well as over the Scarborough shoal, that fall within the former's 200 nautical mile Exclusive Economic Zone (EEZ) and conflict with the latter's nine-dash claim.
Assistant Secretary Raul Hernandez, DFA spokesperson, in an interview with the media, noted that the country could not allow Chinese nationals to use that passport carrying China's sea map because that would mean "acquiescence to their claim…which we believe is excessive and is in violation of our territorial sovereignty."
"We are asking China to respect our territorial sovereignty our EEZ and maritime domain in that area and as the President has stated, we want them to withdraw from Bajo de Masinloc," Hernandez added.
Vietnam had earlier lodged a protest against China's move.
Subscribe to our global nation newsletter
Subscribe to INQUIRER PLUS to get access to The Philippine Daily Inquirer & other 70+ titles, share up to 5 gadgets, listen to the news, download as early as 4am & share articles on social media. Call 896 6000.