DFA still confirming status of 3 Filipinos in US rig accident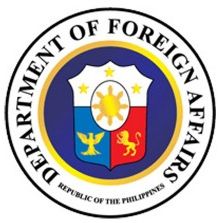 MANILA, Philippines–The Department of Foreign Affairs has yet to determine the condition of three Filipinos out of the nine believed to be working at the time of the oil rig fire in the Gulf of Mexico off the Louisiana coast.
"Four Filipinos were injured in the oil rig blast in Louisiana. Two are in critical condition while another two are in serious condition," DFA spokesperson Raul Hernandez said Monday in a press briefing, quoting reports from the Philippine embassy in Washington.
He added that they were already in stable conditions.
One Filipino was still missing while another's body was recovered by divers near the accident site. Three were not in the list of missing or injured, he said.
"We're still trying to confirm the other three who were believed to be also in the area when the blast happened," Hernandez said. He declined to give the names of the affected Filipinos. "I was told not to disclose the names yet. The company would do that. Let's just wait when they come out with the names."
The Philippine Embassy in Washington however identified one of the injured as Wilberto Ilagan, 50, and the recovered body as Elroy Corporal, 42, from Iligan City.
Ambassador Jose Cuisia has contacted Mary Jean, Corporal's widow, to extend sympathy and to offer whatever assistance that she and her two children may require, a statement from the Philippine embassy said.
Although the US Coast Guard has called off its own search, the owner of the oil platform, Houston-based Black Elk Energy, continued with its own search efforts, the statement said.
"We know that it has been more than 48 hours but we Filipinos always believe in miracles and we continue to pray that our other kababayan will be found alive," Cuisia said.
"The point of agency here in the Philippines has contacted us about what they are doing regarding the case," Hernandez said, adding that the affected families have been informed and have been given adequate assistance.
There are about 162 Filipinos working in oil platforms in the Gulf of Mexico as riggers, scaffolders, welders and other technical work, he said.
Subscribe to our global nation newsletter
Subscribe to INQUIRER PLUS to get access to The Philippine Daily Inquirer & other 70+ titles, share up to 5 gadgets, listen to the news, download as early as 4am & share articles on social media. Call 896 6000.