US Navy feasts on adobo, pansit, lumpia, chopsuey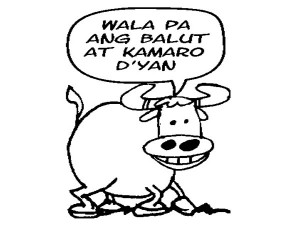 There may be "fewer horses and bayonets" in the US military, as President Barack Obama put it in the third of a series of debates with his challenger in next month's presidential elections, Gov. Mitt Romney.
But there's certainly more adobo, lumpia, pansit and pan de sal—at least in the mess hall of the USS George Washington, thanks to the "Filipino Mafia" aboard the US Navy's  Japan-based aircraft carrier on a goodwill visit to the Philippines.
Chief culinary specialist Ferdinand delos Santos, a Manila native who joined the US Navy 21 years ago, said the behemoth's diverse crew of some 5,500 sailors had taken on Filipino favorites like adobo, pansit, chopsuey and lumpiang shanghai, so much so that the dishes have become regulars on the warship's menu.
"Now, they're a mainstay in the Navy menu.  A lot of times, we just introduce a [Filipino] dish one time and when they like it, we keep it on the menu… Like pan de sal rolls, we have that now," said Delos Santos, a sailor recruited at the US naval base in Subic, Zambales province, a year before it closed in 1991.
800 Filipinos onboard
Delos Santos is one of some 800 sailors of Filipino descent aboard the aircraft carrier.
The nuclear-powered Nimitz-class carrier dropped anchor on Manila Bay on Wednesday for a five-day visit, where sailors will undertake community relations projects with the Philippine Navy and also enjoy a break from life at sea.
The port call, a return trip following visits in 2009 and 2010, is a break from its routine patrolling of the West Philippine Sea (South China Sea), where the George Washington, its carrier group and embarked air wing conduct "freedom of navigation exercises, training and routine flight operations," said its commanding officer, Capt. Gregory Fenton.
"We have a long-standing history of partnership with the Philippines dating back to the Spanish-American War, and we are always appreciative of the opportunity to be able to work with one of our regional partners," Fenton said.
Filipino Mafia
Among other nationalities aboard the ship, the Filipino group, including Philippine-born migrants and sailors with Filipino parents, has become like a tight-knit family that it has become known as the "Filipino Mafia," Delos Santos said.
"They call us the Filipino Mafia in a joking way… They would say, 'Oh, the Mafia's talking again.' That's because we Filipinos are tight," said the officer.
"You know we Filipinos, once you see fellow Filipinos, you greet them even if you don't know them. It's the same here.  Even if we don't see each other every day because the ship is so big, we find time to talk even for a minute or so," Delos Santos said.
Time-out for visits 
Like his fellow Filipino sailors aboard the George Washington, Delos Santos took time to visit relatives in Manila during the ship's stay here.
So would Davao-born Air Officer 2nd Class Ryan Regondola, who is set to meet some Manila-based relatives. The 26-year-old sailor, a mechanic in the air fleet, entered the Navy soon after he joined his Filipino-American mother in the United States five years ago.
"It's been my dream to be a part of the US Navy.  There's always equal opportunity here and there's a lot of room to succeed in the Navy," Regondola said.
The George Washington will host US Secretary of the Navy Ray Mabus, who is also in the country on an official visit.
Coincidental
Fenton described Mabus's visit and the George Washington's port call within the same week amid a simmering territorial dispute between the Philippines and China as merely coincidental and should not be given any special meaning.
"This deployment here with these particular engagements and these particular port visits are still part of our routine operations. In the sense that we're pivoting to the Pacific or increasing our presence and operations in the Pacific, George Washington has been here for four years doing this already," Fenton said in a press briefing.
"We are very sensitive to the areas that are under dispute, if you will. And we do make a very conscious effort to stay away from those areas. I believe that we are firmly committed to helping support the nations that are involved in those disputes. But ideally, we'd like to see them sort out those disputes via diplomatic channels," Fenton said.
Subscribe to INQUIRER PLUS to get access to The Philippine Daily Inquirer & other 70+ titles, share up to 5 gadgets, listen to the news, download as early as 4am & share articles on social media. Call 896 6000.