Binay to seek support for peaceful resolution of territorial disputes at NAM summit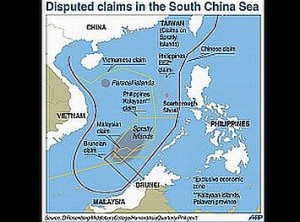 MANILA, Philippines – Vice President Jejomar Binay on Tuesday said that he would appeal for countries' adherence to peaceful resolution of territorial disputes when he attends the 16th Non-Aligned Movement (NAM) Summit in Iran..
"Given our own peculiar problems in our area at this time, I would welcome an opportunity to be able to invite the conference to help all countries involved in territorial disputes to adhere strictly to the peaceful settlement of all disputes," Binay said in a statement before leaving for Tehran.
Binay would be representing President Benigno Aquino III at the summit to be attended by representatives of all 120 NAM member-states as well as 29 associated observer countries and organizations. United Nations Secretary General Ban Ki-moon and General Assembly President Nassir Abdulaziz Al-Nasser are also expected to attend the event.
"I hope to participate in the general debate and convey to the summit our special concerns, and seek the support of the movement's entire membership in addressing those concerns," Binay added.
In a text message, Joey Salgado, spokesperson for the Binay camp, said that Binay would refer to the Philippine government's adherence to the rule of law, including international conventions governing peaceful resolution of conflicts, in his discussion.
Asked whether the Vice President would be using the Scarborough shoal dispute with China as an example, Salgado said "no reference to any country."
Tensions between China and the Philippines had been rising in the recent months because of the countries' competing claims in the West Philippine Sea. The Philippines had been pushing for peaceful resolutions under international law, specifically the United Nations Convention on the Law of the Sea (Unclos). China, on the other hand, had been maintaining the position that disputes among countries should be discussed in a bilateral and not multilateral approach.
Binay said that though he did not know what topics would dominate the summit, he expected that it would "delve on peacekeeping efforts and territorial sovereignty."
"It is safe to assume they will hew closely to the principles that have animated our movement from the beginning namely, mutual respect for each other's territorial integrity and sovereignty; mutual non-aggression; mutual non-interference in domestic affairs; equality and mutual benefit; and peaceful coexistence," he added.
The summit, with the theme "Lasting Peace through Joint Global Governance," formally opened on Sunday. Its gathering of heads of state and government and heads of delegation will be held on Thursday.
Binay said he was expected to attend the official lunch on Thursday to be hosted by Iran President Mahmoud Ahmadi Nejad for summit delegates. Binay's office had also earlier noted that based on its website, NAM is focused on striving for the interests of developing countries all over the world, and represents nearly two-thirds of UN member countries and comprises 55 percent of the world population
Subscribe to INQUIRER PLUS to get access to The Philippine Daily Inquirer & other 70+ titles, share up to 5 gadgets, listen to the news, download as early as 4am & share articles on social media. Call 896 6000.