'Resourceful' Filipinos manage to find jobs in far-flung countries—POEA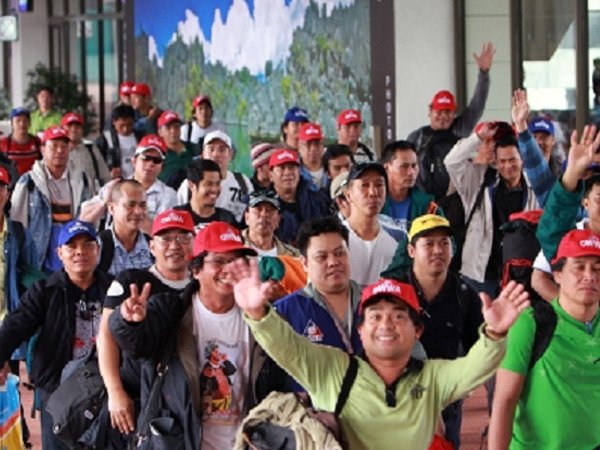 MANILA, Philippines—"Napaka-maabilidad.
Or, very resourceful, is how some old-timers at the Philippine Overseas Employment Administration (POEA) and the Overseas Workers Employment Administration (OWWA) describe many overseas Filipino workers, or OFWs who have managed to find employment in at least 201 countries and trust territories worldwide despite the absence of formal labor agreements with the Philippines.
The OFWs include household service workers, or HSWs who can now be found in places as diverse as North Korea, Greenland, Mongolia, Equatorial Guinea, St. Kitts and Nevis, Sao Tome and Principe, Comoros Islands, Montserrat, Burkina Faso, Cape Verde Islands, Netherlands Antilles, Isle of Man, Burundi, Kiribati, Turkmenistan, and St. Pierre and Miquelon, among others.
At least one Filipino domestic helper is currently based in each of these places, according to an OWWA report (dated July 31, 2012) furnished the Philippine Daily Inquirer by the agency's public affairs office.
Both POEA and OWWA are attached agencies of the Department of Labor and Employment.
On the other hand, at least 10 HSWs are employed in each of these countries: Zambia, Laos and Argentina.
Eight HSWs are based in each of these OFW-hosting nations: Malawi, Seychelles, Monaco, Maldives, Sri Lanka, and Tonga.
Three HSWs from each of these countries have been sending remittances to their families in the Philippines – Croatia, Tanzania, Trinidad and Tobago, Belize, Western Samoa, South Yemen, Algeria, Afghanistan, and Kyrgyzstan – while at least two are based in each of these places – Costa Rica, Moldova, Senegal, Cameroon, Barbados, Kenya, Venezuela, Tajikistan, San Marino, Micronesia, Gibraltar, Dominica, El Salvador and the Czech Republic.
Based on the same OWWA list, countries hosting the biggest numbers of HSWs are Hong Kong with 316,412, followed by Kuwait with 210,763; Saudi Arabia, 140,497; United Arab Emirates, 128,101; Singapore, 94,104; Qatar, 78,806; Italy, 78,352; Lebanon, 42,566; Malaysia, 29,019; Bahrain, 21,254; Cyprus, 20,127; Oman, 19,601; Jordan, 18,905; Spain, 13,597; Brunei Darussalam, 9,740; Macau, 6,085; United Kingdom, 2,716; Syria, 2,637; Taiwan, 2,423; Greece, 1,971; Japan, 1,757; Pakistan, 1,051; South Korea, 774; United States, 768; Cayman Islands, 664; China, 611; Egypt, 593; Palau, 494; Saipan, 454; and Switzerland, 395.
Meanwhile, the POEA said from 2006 to 2011, the country deployed a total of 499,495 newly hired HSWs overseas.
The Top 10 destinations for the Filipino domestic helpers were Hong Kong, Kuwait, UAE, Qatar, Singapore, Saudi Arabia, Italy, Bahrain, Malaysia and Oman, said POEA head Hans Leo Cacdac.
Cacdac noted that 91,412 new HSWs hired in 2006, the number went down to 47,877 in 2007.
"But new hires increased to 50,181 in 2008; 71,557 in 2009; 96,583 in 2010; and 142,486 in 2011. During the first half of 2012, they totaled 72,355," he said.
During the past two years, the Philippines deployed more than 3.15 million OFWs. Some 2.45 million of them were land-based workers while the rest were sea-based, mostly seafarers.
When interviewed, Cacdac said "other than the traditional ones in the Middle East, there have been no new big markets for our HSWs."
"We're still focused on that region, where we're holding talks with some of the HSW-hosting nations on workers' protection," he said.
He observed that "since the so-called "Arab Spring," the trend in many of the Gulf states has been bullish…Some Arab governments have been spending more on housing, medical facilities and tourism, resulting in the hiring of more foreign workers, including our OFWs."
Cacdac also disclosed that the government has been seriously considering a "five-year phaseout program" on the foreign deployment of HSWs.
"We've been directed by (DOLE) Secretary Rosalinda Baldoz to look into a broader program that will help prospective OFWs to decide about othe job options aside from being HSWs… It is just in the conceptual framework and development stage," he said.
The POEA head clarified "it's not a zero-deployment or total phaseout of HSW deployment because there are certain types of domestic work, like in some parts of Europe, that are high-paying and protective."
"During the five-year period, prospective HSWs would be given other employment options based on their skills other than being domestic helpers," Cacdad said, adding "prospective HSWs, many of whom are professionals like teachers and nurses, can still find better higher-paying and less vulnerable jobs here and abroad."
Subscribe to our global nation newsletter
Subscribe to INQUIRER PLUS to get access to The Philippine Daily Inquirer & other 70+ titles, share up to 5 gadgets, listen to the news, download as early as 4am & share articles on social media. Call 896 6000.