AFTER REMOVAL FROM ENDANGERED LIST
Continued preservation of Ifugao Rice Terraces pushed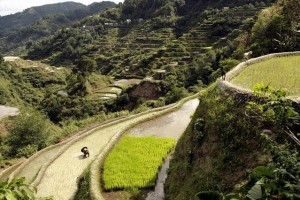 MANILA, Philippines – Senator Eduardo Angara is pushing for the continued preservation of the Ifugao Rice Terraces even after it was removed from the United Nation's list of endangered world treasures.
"This is good news for us. This achievement means we are on the right track but we should be reminded that there is still a lot of work to be done before we fully restore the majestic terraces," said Angara who is the author of the National Cultural Heritage Act.
The United Nations Educational, Scientific and Cultural Organization's (UNESCO) World Heritage Committee, said the Philippines has restored at least 50 percent of the collapsed terraces, and that major parts of the irrigation system have been rehabilitated.
The Ifugao Rice Terraces, called by locals as "Payo", was declared by UNESCO as a World Heritage Site in 1995. Unfortunately, six years later, it was officially listed as one of the world treasures at risk.
Since then, the Philippine government has implemented policies and laws to preserve the terraces such as community-based land use, zoning, and proper management and protection against natural calamities.
"The Ifugao Rice Terraces is known worldwide as the 8th Wonder of the World and one of the country's prime tourist destinations. They are the living testament to the Ifugao's mastery of watershed ecology, terrace engineering, and water distribution. We should not allow the condition of the terraces to deteriorate," Angara said.
The Ifugao Rice Terraces is covered by the National Cultural Heritage Act authored by Angara and his son Aurora Representative Juan Edgardo Angara.
Likewise, Angara has a pending bill, Senate Bill No. 2008, which aims to establish the Cordillera Terraces Authority, which will come up with a 10-year Cordillera Terraces Master Plan for the continuous preservation and rehabilitation of the terraces.
"This bill is a first step towards an overall terraces management and preservation strategy with the end in view of establishing a permanent and effective body to coordinate and lead efforts to restore and protect the terraces of the entire Cordillera Region," Angara said.
"The terraces of the Cordilleras are truly a rare engineering achievement. We are in a race against time to save them from deterioration," he added.
Subscribe to INQUIRER PLUS to get access to The Philippine Daily Inquirer & other 70+ titles, share up to 5 gadgets, listen to the news, download as early as 4am & share articles on social media. Call 896 6000.