South Dakota ghost town now owned by Iglesia ni Cristo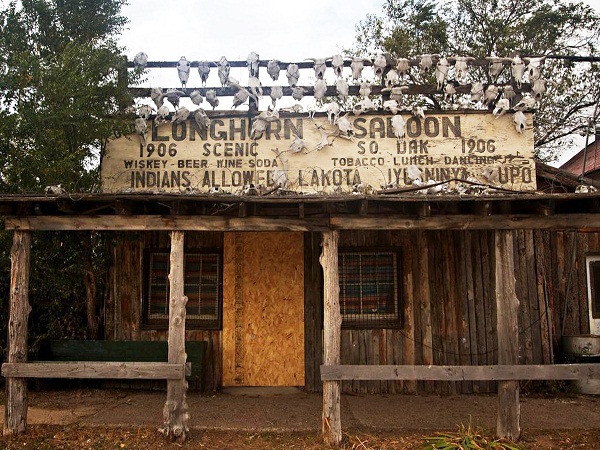 The Iglesia ni Cristo church in the Philippines shelled out $700,000 to purchase an abandoned, tiny exclave in Scenic, South Dakota.  For what?  For possible expansion of its imposing edifices with trademark narrow-pointed spires which are landmarks in many towns and cities in the Philippines.  But INC hasn't divulged its plans for the property according to its offices in Daly City, California.
The Scenic, SD property is the latest in a long line of towns sold, or towns for sale.  Recently a Vietnamese investor bought the tiny town of Buford, Wyoming (pop. 1) for $900,000.  Buford is considered the smallest town in America with a lone resident who mans the post office and has its own ZIP code: 82052. Another town, Henry River, a 72-acre (29 hectares) property in North Carolina is being sold for $1.4 million.  It came off the news lately as an abandoned mill town which served as District 12 in the movie Hunger Games.
The town of Scenic, South Dakota — an unincorporated 12-acre (4.86 hectares) community in Pennington County, once a popular stop for people traveling to Rapid City from the Badlands — was bought by the INC including the surrounding acreage from owner and longtime resident and area rodeo legend Twila Merrill.
INC has been steadily spreading everywhere since its founding in the Philippines in 1914 by Felix M. Manalo, its Supremo, who died in 1963.  It is a large, tightly knit indigenous Christian religious group that counts millions of members nationwide.  According to the National Statistics Office in Manila, 2.3 percent of the entire Philippine population of 93 million is an INC affiliate.  Its present head is Executive Minister Eduardo V. Manalo, the eldest son of Felix.
INC rejects the Christian doctrine of trinity and believes Christ is one of several prophets.  It is focused on the end times, and believes Manalo is a prophet and considers the Catholic Church apostate.  In the Philippines INC is a robust and influential religious sect whose head is often the object of courtship and obeisance of politicians during election time because he reins on his flock whose block votes he could sway almost blindly and fanatically to the candidates who carry his favor.  This is due to its doctrine of unity which puts the penalty of expulsion on anyone
The Iglesia ni Cristo has expanded to more than 6000 congregations in the Philippines, called locales, and more than 600 in 96 countries and territories in six continents.  It has established congregations in many states notably, California, Washington, Texas, New York, New Jersey, and Hawaii, where there are vast colonies of Filipinos.
At its peak, Scenic, South Dakota was pure Old West.  It had two restaurants, three gas stations, a dance hall, a hotel, a school, a bank and a post office.  It's now a deserted, lifeless township.  The hotel is long empty. The environs are lined with aged cattle skulls strewn under overgrown brush.  The roadside jail cells are rusty and worn out and the wooden structures are decrepit after decades of neglect.
But its future is shrouded in new mystery.  Wait for what the Iglesia ni Cristo in Manila, the new owner, will do with the property.  And the few residents there, numbering nine in all, are excited about the possibilities the town pulsates with life again when the INC starts building its landmark super structures with spires pointing to the sky and its cavernous hall reverberating with shouts of worship.
Subscribe to our global nation newsletter
Subscribe to INQUIRER PLUS to get access to The Philippine Daily Inquirer & other 70+ titles, share up to 5 gadgets, listen to the news, download as early as 4am & share articles on social media. Call 896 6000.