DFA assures closure of 10 embassies will have 'minimal' effect on services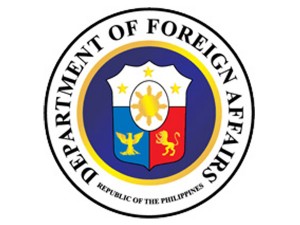 MANILA, Philippines—The Department of Foreign Affairs on Thursday vowed there would be "minimal effects" on its services in areas affected by the planned closure of 10 embassies and consulates general.
In a statement, the DFA said nearby embassies or consulates would take on the jurisdiction and functions of the closed missions. More consular missions would be sent to and more honorary consuls appointed in the affected areas.
The DFA confirmed it would be closing down Philippine embassies in Koror, Palau; Caracas, Venezuela; Dublin, Ireland; Stockholm, Sweden; Havana, Cuba; Bucharest, Romania; and Helsinki, Finland, as well as the consulates general in Barcelona, Spain; Frankfurt, Germany; and Saipan.
"The shutdown of these Philippine missions was primarily due to the need to maximize resources and to augment Embassies and Consulates where there are more Filipinos, especially in the Middle East. Other considerations include potentials for trade, investment and tourism in line with President Aquino's goal of poverty alleviation and job creation and his directive for a lean and efficient bureaucracy," the DFA said.
The closure would mean the pullout of the resident ambassador and diplomatic staff from the affected countries.
DFA officials' diplomatic ties could not be considered downgraded since non-resident ambassadors would be maintained. Many ambassadors of countries that maintain diplomatic relations with the Philippines are based in other parts of the Southeast or East Asian region, the DFA said.
The DFA said consular services in the affected embassy or consulate shall be available to the public up to the last day of their operations, after which the honorary consuls or nearby diplomatic posts would take over.
The department said it had informed the host governments as well as their envoys in Manila about the closure. The Filipino communities, under the jurisdiction of the said diplomatic posts to be shut down have also been told.
Filipino communities in Palau and Barcelona have earlier expressed opposition to the closures. They even launched online signature drives to appeal to the DFA to keep the posts open.
In Manila, the overseas Filipino workers group Migrante International and its political arm Migrante Sectoral Party said the closures would further "disenfranchise" absentee voters in the affected countries.
"Our posts serve as Comelec posts abroad, in charge of facilitating registration and voting for overseas absentee voters. As it is, our posts are not sufficient in number and some are already over-expanding in scope. We only currently have 66 embassies, 23 consulates and four diplomatic missions around the world, while Filipinos are scattered in at least 239 countries worldwide," MSP president Bragas-Regalado said.
"It is even now safe to say that one of the main reasons for the low turnout of OAV registrants may be because our 'kababayans' (compatriots) are finding it hard to access our posts. Now they want to make it harder for them? Where will they register if the embassies are closed?" she said.
Migrante chair Garry Martinez said closing posts was "like abandoning Filipinos abroad."