Living with sea turtles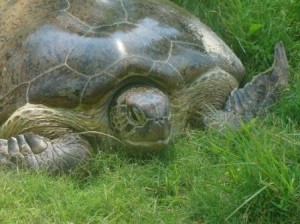 In 2011, a record-breaking 1.44 million green sea turtle (Chelonia mydas) eggs were laid on Baguan Island in the Philippine Turtle Islands. A good sign for sea turtles, to be sure — but what does it mean for the 6,000 impoverished human residents who share these islands with the turtles?
The Turtle Islands is a municipality of six small islands in the province of Tawi-Tawi in western Mindanao. For many people, the word "Mindanao" brings to mind stories of bombings and military-rebel encounters, kidnappings and the never-ending secessionist war being waged by various Muslim groups — including the dreaded Al-Qaeda affiliated Abu Sayyaf. In fact, most parts of Mindanao seem to be permanently included in the travel advisories of almost all foreign governments.
Many of the Turtle Islands' current residents fled mainland Mindanao to escape these conflicts and find peace. Although the islands are part of the Turtle Island Heritage Protected Area — a sanctuary for sea turtles that is jointly managed by the Philippines and Malaysia — these refugees displaced the turtles from their nesting beaches, and communities harvested eggs for trade on the neighboring Malaysian-held island of Sabah.
For many years, the Turtle Islands were a free-for-all for local and foreign turtle and egg poachers, illegal foreign trawl fishers, and locals using destructive fishing methods like dynamite and cyanide fishing. Since the islands are far from the center of political and administrative power, the area was devoid of even basic government services and support, and implementation of the laws was more of an exemption than the rule. A local resident jokingly described the Turtle Islands as "a place of 6,000 people and 12,000 guns."
These were just a few of the challenges that previous conservation efforts in the Turtle Islands have had to deal with over the years, and this was the backdrop when Conservation International (CI) began working there in 2007. The situation was so complex that when I first set foot on the islands in 2008, I thought, "This place is one of our conservation sites? Is my boss crazy?"
The following years proved to be very challenging in reinstituting turtle and marine conservation measures in the Turtle Islands. Long neglected by the government, the community had low regard for conservation and governance. Many people initially viewed conservation as a threat to their sources of food and income.
However, people are beginning to realize that it is possible for sea turtles and humans to co-exist here, and the situation is improving. In order to convince communities that sea turtle conservation is in their best interest, we are engaging stakeholders in dialogues and consultations, helping them rediscover the traditional cultural values of these turtles and emphasizing that their help is essential to save the turtles from extinction.
CI is also supporting alternative sources of income in communities, providing small fishers with startup capital to free them from taking high-interest loans; women with small convenience stores and equipment and materials for traditional mat-weaving; and the youth group  with tools and materials for printing shirts and making handicrafts from recycled plastic and driftwood.
In order to make the Turtle Islands a true haven for turtles and people alike, there is still a lot of work to be done. One major challenge continues to be adequate law enforcement. Since there is no court in the Turtle Islands (the nearest is in the Tawi-Tawi capital town of Bonggao, 16 to 18 hours travel by boat), apprehended violators  in the 12,036-hectare (29,741-acre) Baguan Island strict protection zone are not currently being sent to jail. Instead, they are only given warnings and made to do community service, such as cleaning the beaches of driftwood and garbage blocking the nesting areas. These are some of the realities that characterize law enforcement in a remote yet resource-rich area such as the Turtle Islands, even though we have helped achieve some progress by assisting in delineating the Baguan Island strict protection zone and facilitating the policy that allowed the deployment of Philippine Marines and Coast Guard to the area.
As shown by the initial results of our work, we seem to be on the right path. Last year's 28-year record high of turtle nesting in Baguan is a source of pride for us at CI, our partners, and most especially the community in the Turtle Islands.
In retrospect, by choosing Turtle Islands as one of our conservation sites, I've realized that my boss was not that crazy after all.
Orlando Maliwanag is the sea turtle corridor coordinator for Conservation International-Philippines. He is based in the Turtle Islands for six months every year to coordinate CI's program in the field. This blog originally appeared in Conservations International blog.
Subscribe to INQUIRER PLUS to get access to The Philippine Daily Inquirer & other 70+ titles, share up to 5 gadgets, listen to the news, download as early as 4am & share articles on social media. Call 896 6000.