P&G and DOH enjoin Filipinos to 'BIDA' solution in the fight against COVID-19 crisis
MANILA, Philippines – Since the outbreak of COVID-19 in the Philippines, the national government led by the Department of Health (DOH), has sought to contain the virus through strict community quarantine measures. Alongside quarantine regulations however, the continuous increase of confirmed cases over the past weeks reinforces the importance of practicing healthy habits and preventive measures to curb the spread of the disease.
To help overcome this big challenge, the DOH has collaborated with leading consumer goods manufacturer of health and hygiene products Procter & Gamble (P&G) Philippines for BIDA Solusyon sa COVID-19, a nationwide education campaign that empowers every Filipino to be an instrument of change in the fight against COVID-19.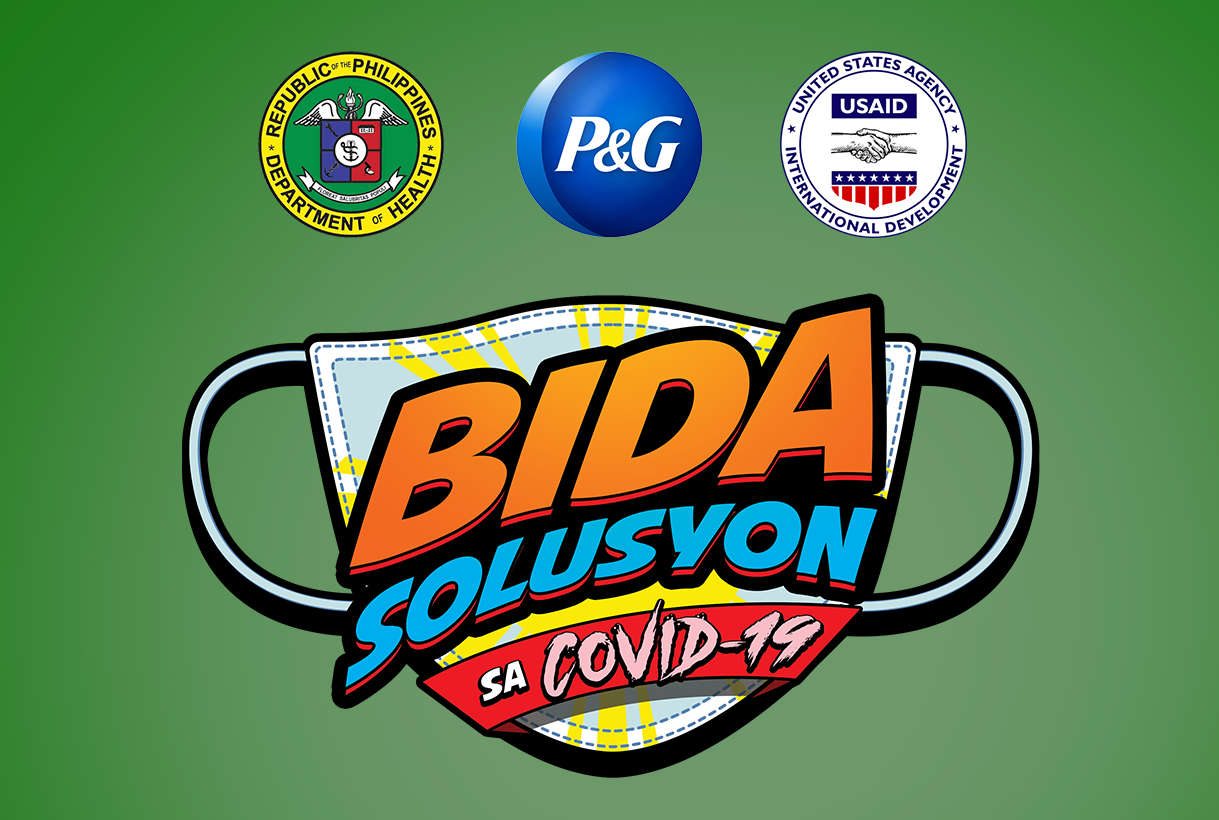 P&G Philippines and the DOH have always shared the same purpose and intent – to keep Filipino families safe and healthy. The company is now sharing its brands, expertise, network, and reach to help every Filipino protect themselves and their loved ones during these trying times.
Every Filipino can BIDA hero
In Pinoy parlance, "bida" represents someone who takes the lead, steps up, and becomes the hero in crucial situations. BIDA Solusyon sa COVID-19 seeks to remind ordinary Filipinos that setting proper examples of maintaining hygiene and sanitation in one's community and one's home through informed and disciplined practices would greatly contribute to the fight against the pandemic.
To promote these habits, P&G Philippines and the DOH look to highlight four key preventive behaviors.
B-I-D-A stands for B-Bawal walang mask (not wearing mask is prohibited), I-Isanitize ang mga kamay, iwas-hawak sa mga bagay (sanitize your hands and avoid touching things), D-Dumistansya ng isang metro (practice social distancing and always stand one meter away), A-Alamin ang totoong impormasyon (Get your news only from reliable sources).
There is an urgent need to instill the BIDA messages in every Filipino and have these behaviors practiced with consistency as they are crucial preventive measures in stopping the spread of the virus. The BIDA Solusyon sa COVID-19 information campaign leverages upon private-public partnerships to help every Filipino family realize the significant role they play.
Empowering Filipinos to BIDA Solusyon at home
More than 90% of Filipino households have P&G brands inside their homes. For more than 85 years now, P&G's primary mission is to be able to provide essential health, hygiene and cleaning products to Filipinos. The nation's #1 anti-bacterial soap is Safeguard, which has always advocated for proper handwashing. Its brands like Ariel, Joy and Head & Shoulders also have superior and clinically proven cleaning benefits that serve the needs of millions of consumers.
With its expertise in home hygiene products, P&G aims to further promote good home hygiene practices and will focus on the "I" component in the BIDA acronym, Isanitize ang Kamay at Bahay, to teach four key values including handwashing with soap for 20 seconds ("Maghugas ng kamay gamit ang sabon ng 20 Segundo"), bathing as soon as one gets home ("Maligo agad pagkauwi"), separating used clothes and washing them immediately ("Ihiwalay at labhan agad ang panlabas na damit"), and cleaning the kitchen and dishes ("Linisin lagi ang kusina at mga pinggan na pinagkainan at pinaglutuan").
P&G is utilizing its marketing, sales, and manufacturing expertise, as well as its vast media network and reach to urge 10 million families. It will release a range of educational multimedia materials across TV, print, and social media platforms to remind Filipinos of their role to keep their families and homes safe and healthy especially for the vulnerable members like the elderly, immuno-compromised and children.
It will also launch BIDA hygiene solution centers to provide education materials and hygiene products situated in 96 supermarket branches nationwide, which could reach around four million Filipinos everyday. These hygiene centers also help provide a more convenient store experience for shoppers who may purchase all their home hygiene products in one central area, so they can shop quickly and minimize long queues inside the grocery stores.
Partners in promoting health and hygiene
P&G Philippines has been a staunch ally of the DOH in championing hygiene education to keep Filipino families and consumers safe and healthy through various health and hygiene programs. For instance, the company recently repurposed its manufacturing operations to produce critically needed medical-grade face masks and pledged to donate one million to the DOH, its partner hospitals and health institutions.
Through BIDA Solusyon sa COVID-19, P&G and the DOH have also partnered with the US Agency for International Development (USAID) to produce BIDA home kits, containing its most trusted health and hygiene products like Safeguard soap, Joy dishwashing liquid, Ariel detergent and Head & Shoulders shampoo. USAID will distribute these to 70,000 vulnerable families from communities that are highly susceptible to the virus, citizens located in COVID-19 hotspots and quarantine centers, locally stranded individuals and displaced persons in temporary shelters.
Together with the DOH, P&G is encouraging everyone to take on the role of a household hero by keeping homes safe and sanitized for family members through practicing and sharing the four BIDA habits. The BIDA Solusyon sa COVID-19 campaign appeals to seek behavioral change and to invite everyone to take part in defending our country against this unseen enemy.
To learn more about the BIDA Solusyon sa COVID-19 advocacy and its upcoming education videos, you may follow and subscribe to the Facebook pages of BIDA Solusyon sa COVID-19, the DOH, P&G, Safeguard, Ariel, Joy, and Head & Shoulders. /INQUIRER.net/JC
BIDA
For more news about the novel coronavirus click here.
What you need to know about Coronavirus.
For more information on COVID-19, call the DOH Hotline: (02) 86517800 local 1149/1150.
The Inquirer Foundation supports our healthcare frontliners and is still accepting cash donations to be deposited at Banco de Oro (BDO) current account #007960018860 or donate through PayMaya using this link .
Subscribe to INQUIRER PLUS to get access to The Philippine Daily Inquirer & other 70+ titles, share up to 5 gadgets, listen to the news, download as early as 4am & share articles on social media. Call 896 6000.