ACADSOC annual gathering proves that there is joy in online teaching
ACADSOC first-ever talent contest for teachers, ACADSOC Rising Star Season 1 launches
ACADSOC, an international online ESL teaching platform, has just successfully held its Annual Gathering event where nearly 500 teachers from all over the Philippines attended.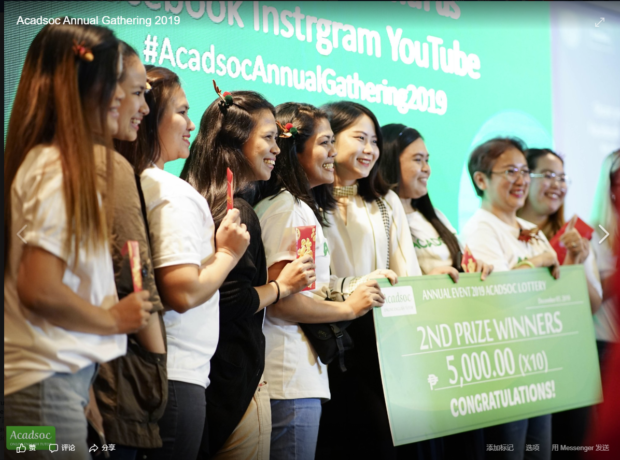 Acadsoc has presented several awards to outstanding teachers. This award not only represents the encouragement of teachers but also represents the gratitude of all students to the teachers.
Over ₱200,000 in cash were given away to all ACADSOC teachers who've attended the big event through a random raffle contest. ACADSOC Annual Gathering was organized by the Head Office & PH Branding Team for the past few weeks. The purpose of the event is to thank and recognize the dedicated Acadsoc teachers.
In order for teachers to discover more of their highlights, ACADSOC launched the first-ever talent competition "ACADSOC Rising Star". Preliminary online audition began in November 2019, with more than a hundred teachers submitting entries. After an enthusiastic vote, the top three contestants were finally invited to perform at the event with all-expenses-paid.
The ceremony was honored to invite the famous host Eri Neeman to preside over the whole process. Important participants in the event include, Chief Operating Officer Johnny Zhang and Zoe Yuan – the General Manager of China. Ronald Rapanot also attended the event as a representative of the Rotary International official. He announced that ACADSOC donated ₱300,000 and cooperated to implement the Cotabato earthquake rehabilitation program. 
COO, Johnny Zhang announced that over 10,000 jobs will be open in the Philippines in 2020, most of which are for home-based online ESL teachers. General Manager, Zoe Yuan, also announced their $1,000,000 referral program for the upcoming year. ACADSOC executives do not only aim to provide more jobs for Filipinos but also to bridge the gap between two nations: China and the Philippines.
Acadsoc holds its annual gathering every year. Let us look forward to more exciting events next year. View highlights of the #ACADSOCAnnualGathering2019 here:
About ACADSOC
ACADSOC is an international online ESL teaching platform that provides convenience and work-life balance for teachers in the Philippines and teachers all over the globe.
For more updates on ACADSOC, please visit http://bit.do/acadsoc-inquirer and follow them on Facebook https://www.facebook.com/Acadsoc.Official/.
ADVT
Subscribe to INQUIRER PLUS to get access to The Philippine Daily Inquirer & other 70+ titles, share up to 5 gadgets, listen to the news, download as early as 4am & share articles on social media. Call 896 6000.