No Limitation
Greedy, philandering Marcos a bayani?
(Note: Below is a reprint of an article I wrote on April 8, 2011. On November 8, 2016, the Supreme Court will announce its decision on whether the former dictator Ferdinand Marcos can be buried in the Libingan ng Mga Bayani. The Marcoses have found a great ally in President Rodrigo Duterte for making the burial a reality, a great insult to the Filipino people and humanity. President Rodrigo Duterte openly idolizes Marcos as well as Hitler. All good and decent Filipinos everywhere must wake up to the reality of the darkness that has engulfed the Philippines and pray much to bring back the light.)
"When I despair, I remember that all through history, the way of truth and love have always won. There have been tyrants and murderers, and for a time, they can seem invincible, but in the end, they always fall. Think of it – always." –Mahatma Gandhi
The Marcos family and their supporters (ex-cronies, mercenaries, etc.) are moving heaven and earth to have Marcos interred at the Libingan ng mga Bayani. With tons of money, influential loyalists, mercenary journalists and other resources at their disposal—they may well succeed. They hope to end the stigma against the Marcoses if they do. They recently got some military officials to install Marcos in the AFP Hall of Heroes.
Libingan ng mga Bayani literally means "Cemetery for Heroes." Essentially, in theory, it is reserved for those whom the nation honors for their service to the country. In Congress, Marcos crony Congressman Salvador Escudero, leads this campaign. The father of Senator Chiz Escudero has already gotten 204 members of Congress to sign the petition to have Marcos interred as a hero.
Money talks especially in the Philippine socio-political cultural setting. This distortion of getting a brutal greedy dictator buried as a hero will happen unless the people speak out and shout: "No way."
Ferdinand Marcos became a dictator based on a lie. He claimed the Communists tried to assassinate his then Defense Secretary Ponce Enrile, so he declared martial law. Enrile later confessed after Marcos fell, that this assassination story was concocted. The dictator killed, imprisoned and tortured political enemies. He engaged in all kinds of graft and corruption as well as stole directly from the Philippine treasury enabling him to amass billions, impoverishing and starving Filipinos.
Marcos brought out the worst in the Filipino. Many cooperated with his evil ways. He could not have thrived for so long without the obvious or tacit assistance of many.
The corrupt practices he institutionalized today continue to plague the Filipino people. Corrupt politicians from the lowest to the highest utilize Marcos' corruption technology of "steal and hide." Steal money through government procurements and other sophisticated methods—then hide the booty using cronies as fronts, depositing money overseas, investing in other countries and converting into corporate assets.
Imitated by succeeding government officials, Marcos' "massive stealing without going to jail" example has resulted in the country being arguably the most corrupt in Asia.
The economy is generally kept afloat by the millions in foreign currency sent by hundreds of thousands of heroic, hardworking overseas workers who undergo tremendous sufferings due to family separations, loneliness and culture shock.
As a result of its widespread reputation for corruption, massive poverty and government inefficiency, the country is referred to by its neighbors interchangeably as "the basket case of Asia" or "the sick man of Asia."
Marcos' dark legacy should cause Filipinos to shudder in shame if despite the innumerable sufferings he had imposed on our people, his fabulously wealthy family and a small group of influential loyalists and mercenaries are able to impose their will on us and have him buried as a hero.
On July 4, 2004, investigative reporter Frank Walker of the Sun-Herald, an Australian newspaper, revealed in an article that the dictator had an affair with an obscure Australian playboy model named Evelyn Hegyesi, who somehow had become a multimillionaire, lived in a plush Sydney waterfront mansion and owned several investment companies.
Hegyesi's daughter with Marcos is named after his mother, Analisa Josefa. Documents obtained by Sun-Herald reveal that on October 14, 1970, the 23-year-old Hegyesi, then three months pregnant with Analisa, formed a company named Austraphil Pty Ltd. In February 1971, Austraphil bought a five-bedroom mansion in Sydney's most expensive area, Wyuna Road, Point Piper, paying mostly in cash and a small loan.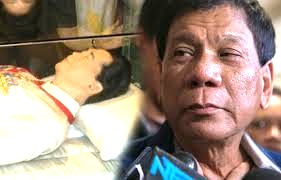 Real estate papers showed that Austraphil took a loan of $250,000 ($2.5 million in today's money) from Finanz AG of Zurich. Finanz was a subsidiary of the Swiss SKA Bank, now called Credit Suisse. This is the main bank used by Marcos to stash his swag.
Hegyesi paid off the loan in 1976, transferring the property in her own name, and sold the mansion for $6.2 million in 1999. She has lived quietly in Sydney's ritziest area for almost 40 years.
Sun-Herald's investigation of the Marcos-Hegyesi affair led to other revelations. It turned out that Marcos had many secret accounts at SKA including so called "foundations" dubbed Azio, Charis, Avertina, Vibor and Valamo aside from others. Swiss court investigations reveal that the Marcos millions came from illegal sources.
Among other irregularities, court papers indicated that Marcos siphoned directly from Japanese reparation funds $23 million (worth $275 million in today's money) and placed it in his Charis foundation. These funds belonged to the Filipino people and were vital at that time to the country's economic development.
Of note is that on November 12, 1971 Marcos signed a document making Austraphil the sole beneficiary of his Anzio Foundation. Analisa was then 3 months old.
This greedy, philandering, cruel man was nice to his many mistresses but not to the Filipino people to whom he left a legacy of much misery, suffering and bad governance. Now his family and a small group of powerful robber barons want to pull wool over the people's eyes and make him out to be a hero.
Mercenary Filipino journalists play a major role in good versus evil conflicts in Philippine society – attacking or defending an issue – depending on "envelopemental concerns."
Thus, some argue that Marcos may have been brutal, corrupt and greedy but he nevertheless was a World War II hero and should still be buried in the cemetery for heroes. Others argue that PNoy should be large hearted enough, be a statesman and show forgiveness and compassion to a war hero. He would be a fool and not a statesman if he did.
They further cite the recent example of General Angelo Reyes. Reyes served in many government positions including as Chief of Staff and Defense Secretary. When it was revealed in a Congressional investigation that he accepted payola, in shame he committed suicide. President PNoy nevertheless allowed his burial at Libingan ng mga Bayani based on his past government services.
PNoy played politician here giving the impression of being a kind person sympathetic to the family of Reyes . Moreover, it had yet to be established by corroborative evidence if the witness against Reyes told the truth even if he appeared credible. The burial was excusable.
Was Marcos the multiple-medaled war hero his propaganda machine claims he was? This claim was debunked by various researchers including the late Col. Bonnie Gillego who scanned military records in Washington, DC and elsewhere. Gillego discovered that Marcos' claim as the greatest resistance fighter in WW II and his stash of war medals were blatantly false.
Gillego's book, The Fake Medals of Marcos," not only exposed the deception foisted by the dictator on the Filipino people but also revealed that he was a Japanese collaborator and therefore a traitor. Gillego based his findings on American military records.
The world would be shocked if Marcos were now declared a hero. It's like former Nazis using their amassed wealth and influence succeeding in getting Adolf Hitler declared as a hero.
If PNoy gives in to pressure and allow Marcos a hero's burial at Libingan, it will be an official act formally declaring that Filipinos are the biggest fools on earth. It will also be an unofficial act declaring that PNoy has no balls and does not really understand true moral leadership. By so doing, he also desecrates the memory of his genuine hero-father who was ordered killed by the Marcoses. Marcos was an absolute dictator and no one would have dared put the hit on Ninoy Aquino without an okay from Malacanang.
Does this mean Marcos should not be forgiven for his transgressions?
The Almighty tells us to forgive and we should. But He never told us that aside from forgiving, we should also honor murderers, torturers and thieves as heroes. This would be a terrible example for future generations of Filipinos.
Atty. Ted Laguatan is a San Francisco based human rights lawyer and recognized Immigration Law expert. email [email protected]
Subscribe to INQUIRER PLUS to get access to The Philippine Daily Inquirer & other 70+ titles, share up to 5 gadgets, listen to the news, download as early as 4am & share articles on social media. Call 896 6000.