Global audience to see previously unknown Surigao gold hoard
NEW YORK CITY—Long before Ferdinand Magellan landed on Homonhon Island, the archipelago that became the Philippines consisted of kingdoms rich in gold.
This pre-colonial heritage will be front and center to a global audience during the four-month "Philippine Gold: Treasures of Forgotten Kingdoms" exhibition set to open on September 11. Part of the collection is a cache that was accidentally excavated in Surigao.
The Asia Society Museum here, in collaboration with the Ayala Museum in the Philippines, will showcase dazzling pre-colonial gold largely from the Butuan-Surigao area of southern Philippines.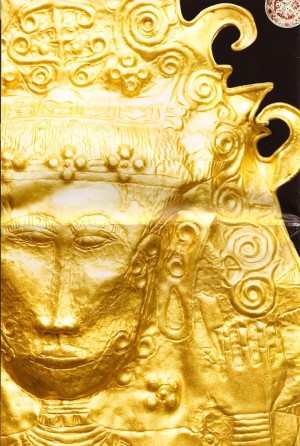 The spectacular works of gold include exquisite regalia, jewelry, functional and ritualistic objects, ceremonial weapons, and funerary masks dating back to the 10thcentury, signifying strong cultural connections within Southeast Asia arising from maritime trade.
"In April 1981, a heavy machinery driver who was part of a team working on a government irrigation project in the hamlet of Magroyong, a barrio in San Miguel in Surigao del Sur province, found glistening objects as he was moving soil from a mountaintop to use as filling," Dr. Florina Capistrano-Baker, consulting curator at Ayala Museum, told INQUIRER.net.
"The treasure included necklaces, twisted wire leg hoops, woven waistbands, bowls, and a dagger of solid gold. Dealers and collectors began referring to the gold objects as the 'Surigao Treasure'."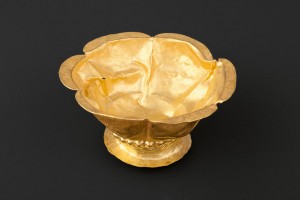 This cache ended up among the more than 1,000 gold objects collected by the late archeologist Cecilia Locsin, wife of Philippine national artist Leandro Locsin, between 1960 and 1981, according to Asia Society's event brief. Baker added that the "Surigao Treasure" only came on permanent display almost three decades later, in 2008 at the Ayala Museum.
The Locsin collection now belongs to the Ayala Museum. Along with pieces from the Bangko Sentral ng Pilipinas Gold Collection and private collections in the United States, the pre-colonial treasures will be on view in New York until January 3 next year.
"It really came from the vision of Fernando Zobel de Ayala that this exhibit should not be limited to the Philippines or Manila," Loida Nicolas-Lewis told INQUIRER.net during the special preview organized by Asia Society on July 21.
"Since last year, he has been talking to Asia Society and they sort of had a handshake during the spring of last year. Then he brought in Doris Magsaysay Ho [chair of Asia Society Philippine Foundation]. And in December, I joined in—and my idea was to involve the Filipino American community leaders. That's why I formed the benefit committee, we're around 20," Lewis explained.
Lewis chairs the Philippine Gold gala benefit committee along with Ayala and Ho. Honorary chairpersons are Ambassador and Mrs. Jose Cuisia Jr. and Consul General and Mrs. Mario de Leon Jr. Serving as vice-chairs are Tony and Gail Alvarez with Ron and Sheila Marcelo.
Benefit committee member Edwin Josue said the upcoming New York exhibit is an important event for Filipinos and Filipino Americans alike as it shows "how rich our history and culture were even during the pre-Spanish times. Our ancestors were noble and we could say that we all have dugong maharlika [royal blood]!"

Golden age
According to Baker, Dr. Jaime Laya actively collected the gold for the Philippine Central Bank during his term as its governor in the early '80s, thus preserving the gold for posterity.
"This exhibit is like King Tut, the Egyptian king that was buried in the pyramid and discovered," Lewis noted. "This Philippine gold, nobody knew about it until now."
Kira Danganan-Azucena, Philippine deputy consul general to New York, described the exhibit as one of the most important Philippine cultural events this part of the world has seen in many years.
"It will feature over a hundred artifacts made of gold that showcase the world of the golden age of the Kingdom of Butuan in Mindanao," she said. "We at the Philippine Consulate will come up with a work plan on how we can engage our more than 300 Filipino-American community organizations not just in New York but the entire United States."
Regular admission to the exhibit is at $12. For groups of 20 or more, the rate is only $7, according to Lewis.
Like us on Facebook
Subscribe to INQUIRER PLUS to get access to The Philippine Daily Inquirer & other 70+ titles, share up to 5 gadgets, listen to the news, download as early as 4am & share articles on social media. Call 896 6000.