Is Binay the Manchurian Candidate?    
It was made into two classic films, the first with Frank Sinatra in 1962 and the second with Denzel Washington in 2004. "The Manchurian Candidate," the 1959 best-selling novel by Richard Condon, told the tale of a group of American soldiers captured during the Korean War who were taken to Manchuria, China where they were brainwashed by Chinese officials. After their captors released them, the soldiers were hailed as heroes in the US. One of them, Raymond Shaw, became the "Manchurian Candidate," the sleeper assassin at the beck and call of the Chinese Communists.
Does China have a Manchurian Candidate in the 2016 Philippine presidential elections? This question is akin to asking, "Is the Pope Catholic?"
With control over dozens of Philippine shoals and billions of barrels of oil underneath them at stake, China will most definitely want its chosen candidate to win the May 2016 Philippine presidential elections.
The smart money is betting in Chinese Yuan that Vice President Jejomar "Jojo" Binay will be that candidate.
When the Aquino Government learned in April of 2014 that China was engaged in massive land reclamation activities in the Mabini Reef and filed protests in the United Nations, the newly arrived Chinese Ambassador to the Philippines Zhao Jianhua paid a courtesy call on Binay at the Coconut Palace. He also hosted an intimate dinner at his Forbes Park residence in Makati for the Binay family, which included former Makati Mayor Elenita Binay, Sen. Nancy Binay, Makati Mayor Jejomar Erwin Binay Jr., Rep. Abigail Binay and Binay's longtime associate, Employers Confederation of the Philippines President Edgardo G. Lacson.
Given his close personal friendship with Ambassador Zhao (seen in the photo in the Chinese Embassy website: http://ph.china-embassy.org/eng/), it was expected that Binay would downplay his support by China. So it came as a surprise when Binay announced in an interview in a Visayan radio station on April l2, 2015 that, if elected president in 2016, he would back China's call for "bilateral talks" to resolve the territorial dispute between the two countries and that he would engage in "joint ventures" with China.
Why did Binay come out now?
Why did Binay publicly announce his support for China's position on "bilateral talks"? Why was he not deterred by the results of a nationwide poll conducted by Social Weather Station (SWS) from December 2013 through January 2014 which showed that "an overwhelming majority of Filipinos (93 percent) back the government's efforts to defend the national territory" against China?
Was it motivated by concern that China may back another more credible candidate? Is this why none of the other Philippine senators — who may be "presidentiables" — have criticized China's invasion of Philippine territories, for fear of losing Chinese financial support?
But just in case the press did not learn of Binay's public position on China, the Vice President's media staff sent transcripts of his radio interview to all the Manila media on April 14. Under the caption heading "China has capital, we need money", ABS-CBN News reported that "Vice President Jejomar Binay over the weekend said he had no problem with the Philippines holding joint ventures with the "moneyed" China in the disputed West Philippine Sea, in what could be a glimpse of his China policy in case he gets elected president in 2016."
Binay's announcement came as a surprise because he is still a member of the Aquino cabinet as chairman of the Housing and Urban Development Coordinating Council (HUDCC) and Aquino's adviser on overseas Filipino worker (OFW) affairs. If he wanted to publicly express his differences with the Aquino government on the dispute with China, the honorable move for Binay would have been for him to resign from the Aquino cabinet. [But no one has ever accused Binay of taking principled positions.]
As recently as November of 2014, when Pres. Aquino denied Binay's request to use his influence to stop the Philippine Senate from conducting a probe of corruption in Makati under Binay, Pres. Aquino said that Binay was free to resign from his posts in the Aquino cabinet. But Binay declared then that he would not leave the Cabinet. "I have the highest respect for President Aquino and I will continue to be a team player," he said.
Binay as a 'team player'?
Binay has been openly skeptical of the Aquino administration's filing of a claim against China in the United Nations International Tribunal of the Law of the Sea (ITLOS). Binay expressed the view there was no point in pursuing the UN venue because China will not abide by the decision of the tribunal anyway, which is expected to be handed down in April of 2016. ("Sabi ng China, kahit ano pang maging desisyon do'n sa Tribunal, hindi nila susundin," Binay said in the radio interview.)
Any chance that the Philippines could extract concessions from China to avoid the adverse decision of the UN was undermined by Binay's pronouncement. All China has to do is wait a month after the expected adverse UN tribunal's decision and the Philippine claim will be withdrawn by Pres. Binay, the Chinese will conclude.
Because China will not agree to any multilateral talks over the fate of the "disputed" shoals in the West Philippine Sea, the only alternative — in Binay's view — is to engage in "bilateral talks" with China as China insists.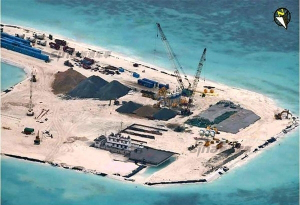 In a televised interview with ANC, Foreign Affairs Secretary Albert del Rosario responded to Binay's comment by clarifying the Aquino government's position: "We are for bilateral talks, but we ran into a dead end in terms of using that approach."
"In the case of Scarborough Shoal, we had over 50 bilateral engagements with them and that did not work because … in every bilateral meeting you have with China, unfortunately, [leads to their saying] to you, 'We have indisputable sovereignty over the entire South China Sea'," Del Rosario said.
Is Pres. Binay willing to accept China's position that it has "indisputable sovereignty" over the entire South China Sea?
Binay said in the radio interview that he plans to undertake "joint ventures" with China. DFA Sec. Del Rosario said while the Philippines is open to conducting joint oil explorations with China in the disputed waters, "we should do this in accordance with the requirements of the constitution. In other words, it must be in accordance with the Philippine law. And China as of now does not appear to be in accordance with that. They feel that it should be their laws that should apply."
'Faithfully uphold the Constitution'?
If Binay were elected president, the first words of his oath of office on July 1, 2016 would be that he would swear to "faithfully uphold the Constitution of the Philippines." Article XII Section 2 of that Constitution states that, "All lands of the public domain, waters, minerals, coal, petroleum, and other mineral oils, all forces of potential energy, fisheries, forests or timber, wildlife, flora and fauna, and other natural resources are owned by the State. With the exception of agricultural lands, all other natural resources shall not be alienated. The exploration, development, and utilization of natural resources shall be under the full control and supervision of the State."
It is unconstitutional for Binay to give China any control over the Philippine shoals and the oil and natural gas underneath them. Any "joint venture" with China requires that the venture must be under the "full control and supervision" of the Philippines.
The Philippine Constitution also declares that "the State shall protect the nation's marine wealth in its archipelagic waters, territorial sea, and exclusive economic zone, and reserve its use and enjoyment exclusively to Filipino citizens."
US Pacific Fleet Commander Admiral Harry Harris, in a speech in Australia two weeks ago, said: "China is building artificial land by pumping sand on to live coral reefs – some of them submerged – and paving over them with concrete. China has now created over 4 sq km (1.5 sq miles) of artificial landmass."
Would a President Binay protect the coral reefs of the Philippines?
Article XVIII Sec. 25 of the 1987 Constitution states that "foreign military bases, troops, or facilities shall not be allowed in the Philippines" unless approved by the Congress and ratified by the people in a referendum.
Surveillance photos taken by Philippine Air Force jets confirm that China is building military bases on at least seven of the Philippine shoals including one on Panganiban Reef (Mischief Reef), which lies only 85 miles from Palawan.
Just exactly how does "President Binay" plan to "faithfully uphold" the Philippine Constitution?  Or does he?
(The author's latest book, The New Global Filipino Nationalism, is a collection of essays that have been published in the Inquirer.net for the past five years about the creeping Chinese invasion of the Philippines and the global Filipino response to it. To reserve a copy, please send your name and address to javascript:void(0);javascript:void(0);[email protected].The price of the book will be determined by the number of copies published. The publisher wants to know the public response to the publication of the book.)
Like us on Facebook
Subscribe to INQUIRER PLUS to get access to The Philippine Daily Inquirer & other 70+ titles, share up to 5 gadgets, listen to the news, download as early as 4am & share articles on social media. Call 896 6000.