Apl.de.ap music video 'BE' explores gamers' online romance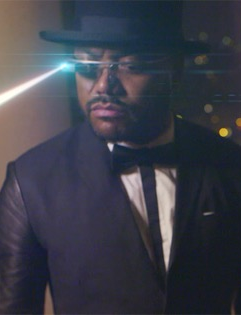 LOS ANGELES – International rap-star and singer Apl.de.ap recently released his first music video "BE" off his much-anticipated solo album due out in early 2015.
The album, entitled "AP3," brings together sound and technology by exploring a digital romance during an online video game experience.
An arts, fashion and media innovator, Apl.de.ap is an early adopter of technology and all it has to offer. The co-founding member of The Black Eyed Peas new track and video touch on technology's influence on personal lives and interactions. Today's modern romance is about daily interactive connections. Hence, romance lives at the whim of our fingertips.
In the music video "BE," a modern courtship is ignited online during a video game experience between two players: Apl.de.ap and emerging Canadian-Cambodian rap sensation, Honey Cocaine.
Both gamers are also guided in the video by a holographic version of singer Jessica Reynoso, who was recently one of #TeamApl's finalists in "The Voice Philippines Season 1."
Today, people are increasingly defined by their online personalities, and "BE" plays with this idea in the video, complete with uplifting rap beats by Honey Cocaine and hypnotizing vocals by Jessica Reynoso.
The track features musical inspirations from across genres including original hip hop sounds and a message reminiscent of Apl's roots and The Black Eyed Peas' early days. With "BE," Apl urges fans to pursue their dreams and passions, but also to stay real and just BE themselves online, in love and life in general.
The single aligns with Apl.de.ap's efforts of bringing technology to his music and collaborating with aspiring Asian artists globally to bring fresh Asian talent to the world's stage.
Apl.de.ap is an original, co-founding member of The Black Eyed Peas, which has sold 33 million albums and 58 million singles worldwide. Today, Apl remains a part of The Black Eyed Peas and is in production of a solo album due out in early 2015. Apl is an active music producer of rising stars in Asia through his label BMBX Entertainment and tours the world deejaying events. He is a devoted philanthropist through his apl.de.ap foundation and is also an ambassador of many others causes and governments. .
Honey Cocaine is an innovative artist who has become a pioneer of the evolving music industry offering a refreshing approach to hip-hop.  Born in Canada and of mixed Asian descent (half Indian/Thai, and half Chinese/Vietnamese), Honey Cocaine grew up speaking French and Cambodian, and began learning English after moving to Toronto, from Montreal, at age 10. At 18, she was invited to go on tour with Tyga, during which she worked alongside an array of artists, including Chris Brown, YG, Kreashawn, Kirko Bangz, and Lil Twist, and also shared stages with Lil Wayne, J Cole, and Kid Ink.
Jessica Joy Seria Reynoso is of African-American and Filipino descent and currently lives with her adoptive parents in the Philippines. At nine, she appeared on national television for a competition on Pop Star Kids (QTV in the Philippines). Her first serious engagement with the music world was in 2013 when she auditioned for "The Voice Philippines' and captivated the hearts of the judges and audience with her powerful rendition of Alicia Keys' "Fallin." JR's first single entitled "Just Like You?" was recently released in15 countries and is currently charting on both radio and music video channels.
Subscribe to INQUIRER PLUS to get access to The Philippine Daily Inquirer & other 70+ titles, share up to 5 gadgets, listen to the news, download as early as 4am & share articles on social media. Call 896 6000.