TFC launches 'Galing ng Filipino Dance Move Promo'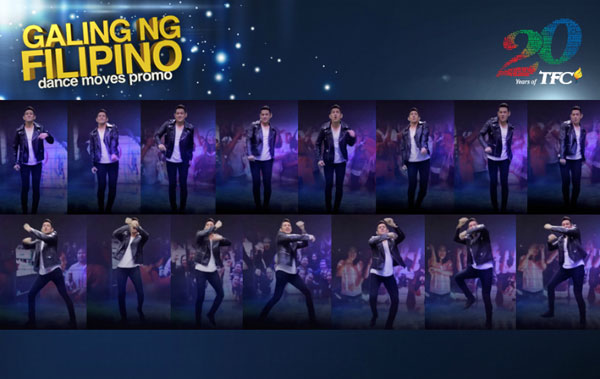 • 20th anniversary campaign invites Filipinos to submit own video versions
REDWOOD CITY, California – Following the success of its 20th year anniversary gala in April and the official launch of its anniversary music video performed by Gary Valenciano with son, Gab, on the Philippines' number one weekend variety show, "ASAP 19," The Filipino Channel (TFC) is inviting all Filipinos overseas to join in the celebration via the TFC20 Galing ng Filipino Dance Moves Promo.
In the music video for the song "Galing ng Filipino," which pays tribute to the "innate greatness of Filipinos" that enables them to thrive and excel wherever they are in the world, the choreography showed Gary and Gab executing specific dance steps for the last two lines of the chorus:
"Oh oh oh, oh,oh (3x) Angking galing, ipagpatuloy mo!"
The Valenciano father-and-son tandem does its own dance interpretation of the line that encourages Filipinos to "march on with their greatness," making circular motions to represent continuing movement as they step to the rhythm and the beat of the song.
TFC challenges global Filipinos to submit their own video versions of the "Galing ng Filipino" dance move. Exciting prizes await entries that are adjudged best renditions, according to TFC.
"The song composed by Jonathan Manalo and Jay Santiago and arranged by Gary himself can be interpreted by Filipinos around the world in a million ways and that's the beauty of it," said ABS-CBN Global Chief Marketing Officer Jojo Ines.
He explained, "While for this promo, we want the entries to keep the signature dance moves as the foundation, we want to see their overlay because interpretation is subjective and unique to each person.  Interpreting music equals inspiration.  How you are inspired to move to it is how you interpret it.  That's what it means to you.  With this promo, we want Filipinos to find themselves in this song and dance and express themselves."
The TFC20 Galing ng Filipino Dance Moves Promo started on May 21 and will end on June 22, 2014, at 11:59 p.m. Pacific time.  ABS-CBN TFC stars like Doris and Sabel (Tart Carlos and Vivieka Ravanes) of "Be Careful with My Heart," Henry Omaga Diaz and Doris Bigornia of ABS-CBN News and Dimples Romana of TFC Connect took part in promo videos showing their spin on the signature dance moves.  Anyone with Filipino lineage all over the world (except in the Philippines), male or female, 18 years old and above can join.
For more information TFC20 Galing ng Filipino Dance Moves Promo, visit www.tfc20.com.
Subscribe to INQUIRER PLUS to get access to The Philippine Daily Inquirer & other 70+ titles, share up to 5 gadgets, listen to the news, download as early as 4am & share articles on social media. Call 896 6000.