Big 30th year fete for longtime Filipiniana bookstore in California
• Three culture-filled events from May 17 to 31
• Featuring T'boli weaves, baybayin, kulintang, authors' panel, etc.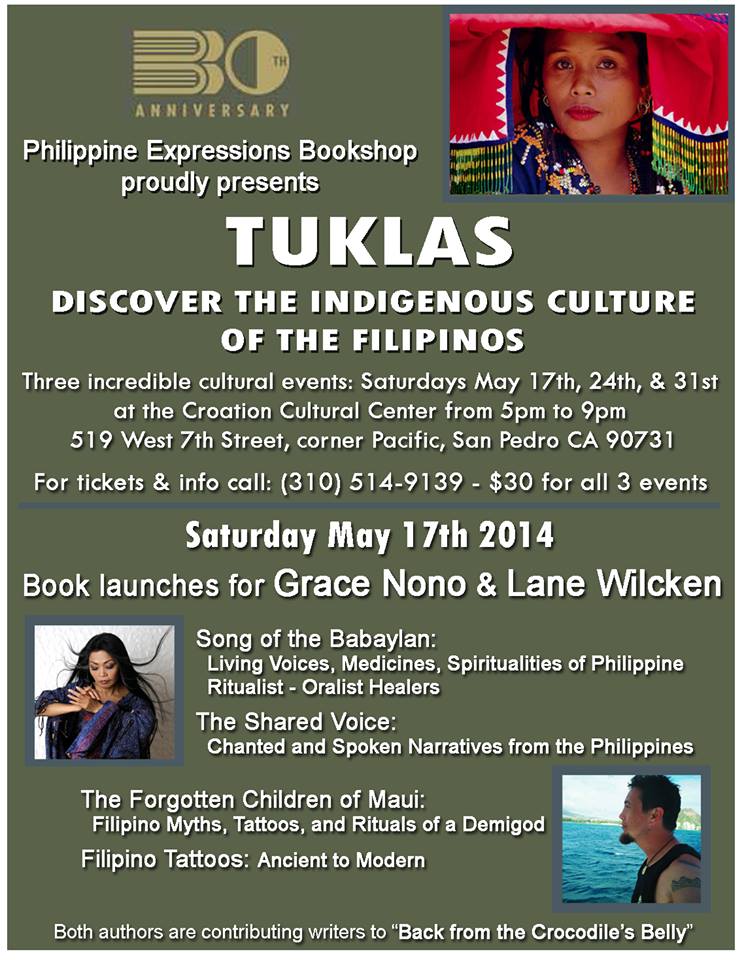 RANCHO PALOS VERDES, California — A three-part celebration will mark the 30th anniversary of Philippine Expressions Bookshop.
Linda Nietes, founder and her husband, Robert J. Little, Jr., will present a program called "TUKLAS: Discover the Indigenous Culture of Filipinos" to mark the bookshop's anniversary.
Tuklas will showcase the ancient arts of Filipinos, which are slowly being revived "as a means of strengthening the national identity and increasing pride in the ancient culture of Filipinos" stated the bookshop's press release.
"The event opens on Saturday, May 17 and will continue on two succeeding Saturdays –May 24 and May 31, from 5:00 p.m. – 8:00 p.m. at the Croatian Cultural Center of Greater Los Angeles, 519 West 7th Avenue corner Pacific, San Pedro, California. The Center is a satellite of the LA Cultural Arts Department of the City of Los Angeles.
The program includes "T'nalak Exhibit: The Sacred Weaves of the T'bolis." Guests will walk through a T'nalak forest and enjoy the sight and feel of 50 hand-woven tapestries done by T'boli master weavers of Lake Sebu in Cotabato Province. The exhibit begins with a 14-minute documentary, "Weaving T'nalak." A "touch and feel experience" of the raw materials from the abaca tree, t'nalak looms in various stages of being woven and to rolls of finished products. The T'nalak Exhibit will continue until May 31.
Fides Enriquez is the exhibit Curator. She is an independent ethnographer, photographer, film documentarian, producer and explorer. The T'boli textile exhibit, "Fu Dalu – The Spirit of the T'nalak" was first presented at Pusod Gallery in Berkeley in 2002 and then went on special display at the Asian Art Museum in San Francisco in 2005.
Enriquez has since given talks on T'nalak at the University of Hawaii at Manoa and for the Textile Arts Council at the de Young Museum in San Francisco. In 2012, she produced the award-winning documentary, "Harana – The Search for the Lost Art Of Serenade," a film about the traditional courtship music of the Philippines. She has also produced Florante Aguilar's original theatrical works "Lalawigan – A Tagalog Song Cycle" and "Aswang – Tales of Philippine Lore."
Eleanor Academia of the World Kulintang Institute will demonstrate the varied tones that evolve from brass gongs and.  She and her husband, Guro Cass Magda, of the Magda Institute will also demonstrate traditional martial art forms called Kali in the southern islands of the country and Arnis in the lowlands of Visayas and Luzon. They will talk about how the art has evolved from a dance of skills to the art of self-defense.
Author Lane Wilcken will launch his book, The Forgotten Children of Maui: Filipino Myths, Tattoos And Rituals of a Demigod. (2013). Hidden within the ancient mythology, long-forgotten tattoo designs, and dying rituals of the Philippines is the powerful impact of Maui, a man well known in Polynesia but nearly forgotten in the Philippines. Wilcken is also the author of Filipino Tattoos: Ancient to Modern. (2010). The author will autograph both books.
Grace Nono, ethnomusicologist and singer of traditional chants will talk about her latest book, Song of the Babaylan: Living Voices, Medicine, Spiritualities of Philippine Ritualist – Oralist – Healers. (2013). Nono is also the author of The Shared Voice: Chanted and Spoken Narratives from the Philippines. (2008), winner of the 2009 National Book Award. Nono will autograph both books.
Both Nono and Wilcken are contributing writers to Back from the Crocodile's Belly: Philippine Babaylan Studies and the Struggle for Indigenous Memory, edited by S. Lily Mendoza and Leny Mendoza Strobel. Copies of this book will likewise be available.
On Saturday, May 24 will be a reception for Filipino American authors who have been part of the "bookshop family." Part of the program will be a retelling of Abadeha: The Philippine Cinderella  by Myrna de la Paz Mulhern, author, storyteller and filmmaker.
Norman de los Santos will speak and demonstrate Baybayin through powerpoint. From Wikipedia, the free encyclopedia, Baybayin is an ancient pre-colonial Philippine writing system. It is a member of the Brahmic family of India and is recorded as being in use in the 16th century. It continued to be used during the Spanish colonization of the Philippines up until the late 19th Century.
Kulintang: Ancient music and its History will be traced by Ron Quesada of Kulintronica. Kulintang is a term with various meanings, all related to the melody-playing gong. He will perform traditional kulintang music and to show his versalility, he will demonstrate how music from an ancient instrument can be blended to create fusion music of the 2lst century.
Author Cecilia Manguerra Brainard will moderate The Filipino: As a Writer in America, a panel discussion by Filipino American authors. Members of the panel include known authors Paulino Lim, Carlene Sobrino Bonnivier and Giovanni Ortega.
Guro Ramses Sison and his students will demonstrate Arnis: Filipino Martial Arts. The terms vary widely (kali – escrima –arnis  silat – kuntao – estoque – kaliradman – pagkalikali).
The finale on Saturday, May 31 will be a celebration of Filipino folk dances derived from various indigenous cultural communities of the Philippines. Traditional dances from the North to the South will highlight the similarities and the differences among various communities, whether in their musical traditions, costumes and folkways.  A 14-minute documentary, "Weaving T'nalak" will also be shown, along with other related documentaries.
General entrance tickets: $30.00 or a dollar a year to represent thirty years of service to the Fil Am community. Students & Seniors: $10.00. Tickets are good for all three Saturday events. Three events, one ticket.
To order tickets: (1) send check payable to Philippine Expressions Bookshop, PO Box 4201, Palos Verdes Peninsula, CA 90274. (2) via PayPal thru <linda_nietes@sbcglobal.net> (3) by credit card. Call 310-514-9139. Reservations must be prepaid.  Programs will start promptly at 5:00 p.m. Street parking. Refreshments Table will open by 6:00 p.m. A mini-bazaar of Filipiniana books, art, handwoven fabrics and tribal curiosities will be mounted on all three Saturdays. Info: 310-514-9139
First Books for Filipino Children, a grassroots literacy project of Linda Nietes and Robert J. Little, Jr. gives free books to the children of the Province of Antique, Philippines. Proceeds from the three weekend events will allow the owners of Philippine Expressions Bookshop to continue their literacy project.
"If we want to transform the Philippines into a country of readers, we must start with the young. In the absence of a real library system in the country, getting books into the hands of young Filipino children is the first step," Nietes stated.
Antique is a pilot project, with a reading program being envisioned. Provincial Chapters of First Books for Filipino Children will be established in other provinces if sufficient interest will be generated. Donations in any amount will be accepted for this purpose, especially if you will not be able to attend. For more details, call (310) 514-9139 or email: linda@philippineexpressionsbookshop.com Philippine Expressions Bookshop is a mail order company based in Rancho Palos Verdes. It specializes in Filipiniana books for all ages. Visit their blog: philippineexpressionsbookshop.wordpress.com
 RELATED STORIES
FilAm authors' night set at LA Times book festival
Echo Park Library to launch the Philippine Heritage Collection
Subscribe to INQUIRER PLUS to get access to The Philippine Daily Inquirer & other 70+ titles, share up to 5 gadgets, listen to the news, download as early as 4am & share articles on social media. Call 896 6000.