30 PH-Hong Kong/China flights canceled due to super typhoon Usagi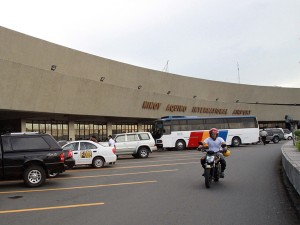 MANILA, Philippines – At least 30 international flights were canceled on Sunday as super typhoon Usagi threatened Hong Kong and mainland China.
The Manila International Airport Authority (MIAA) and the Department of Transportation and Communication made separate announcements on Twitter on the cancellation of flights going to and from Hong Kong and other parts of China.
MIAA said Cathay Pacific, China Southern, Philippine Airlines and Cebu Pacific canceled their flights to and from Hong Kong, Macau, Xiamen and other provinces in China because of typhoon Usagi (local name Odette), which battered northern Philippines and Taiwan in the past few days.
Meanwhile, Cebu Pacific said in an advisory sent to media that flights from Cebu, Clark and Iloilo bound for Macau and Hong Kong were also grounded.
Canceled flights are as follows (Those marked with * are flights mentioned only by DOTC):
Cathay Pacific
CX 919/918 Hong Kong- Manila- Hong Kong
CX 902 Manila-Hong Kong
CX 913 Hong Kong- Manila
CX 905/904 Hong Kong-Manila-Hong kong
CX 912 Manila-Hong Kong
CX 901 Hong Kong- Manila
China Southern
CZ378 MNL-Xiamen etd 0840H
CZ 3091/3092 Manila-Canton-Manila
Philippine Airlines
PR336 MNL-Pudong etd 1130H
PR352 MNL-Macau etd 1200H
PR353 Macau-MNL*
PR306 MNL-HKG etd 1400H
PR307*
PR330 MNL-Xiamen etd 1605H
PR310 MNL-HKG etd 1900H
PR382 MNL-Canton etd 2230H
PR311 HKG-MNL eta 0010H
PR383 Canton-MNL eta 0425H
PR353 Macau-MNL eta 1720H
PR336 MNL-Shanghai*
PR337 Pudong MNL eta 1940H
PR301 HKG-MNL eta 2005H
PR331 Xiamen-MNL eta 2145H
Cebu Pacific
5J 110 and 5J 111 MNL-HKG-MNL etd0755H/eta1240H
5J 118 MNL-HKG
5J 119 HKG-MNL
5J 362 MNL-Macau
5J 363 Macau-MNL
5J 240/241 Cebu – Hong Kong – Cebu
5J 150/149 Clark – Hong Kong – Clark
5J 370/371 Clark – Macau – Clark
5J 242/243 Iloilo – Hong Kong -Iloilo
Dragon Air
KA 932 Manila- Hong Kong
Subscribe to INQUIRER PLUS to get access to The Philippine Daily Inquirer & other 70+ titles, share up to 5 gadgets, listen to the news, download as early as 4am & share articles on social media. Call 896 6000.